iSeeGuard Computer Tracking
Tracking Employees' Computers without Them Knowing
Support WhatsApp tracking, Gmail reading and intercepting, screen recording, and more.
Check tracking data online anytime anywhere.
Support data syncing and exporting.
Invisible on the target computer.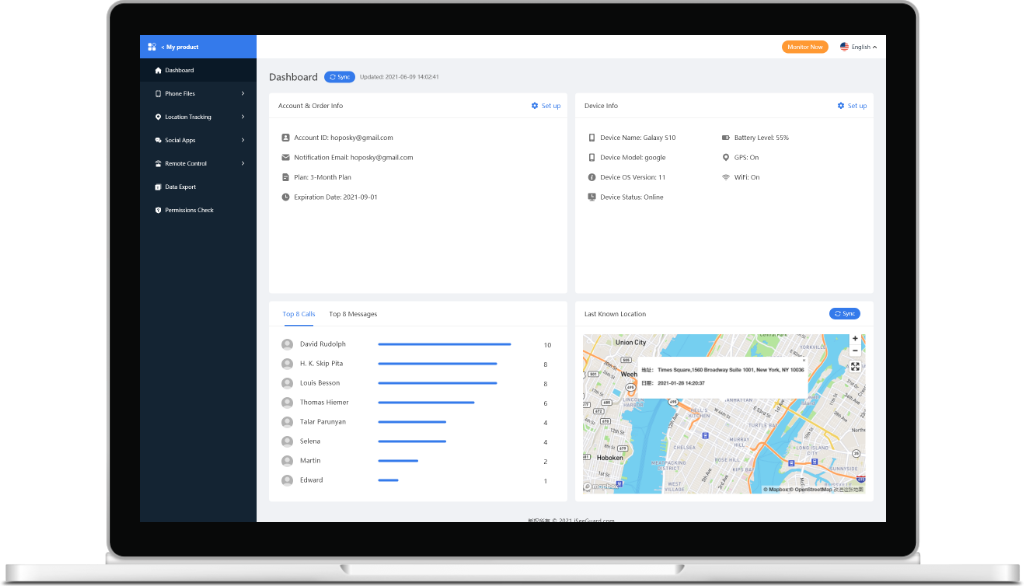 What You Can Do with iSeeGuard Computer Tracking
Browser history tracking
With iSeeGuard, you will see what searches were performed on which popular web browsers. Even the URLs of the websites visited by the target will be stored, so you can check the details on your own computer afterward.
Download History Tracking
Internet browsers also allow you to track download history along with browsing history. Downloaded file paths and download times can also be tracked.
Social Media Messaging Tracking
You can intercept the shared contacts on top of your messages, along with items like images or videos.
Web Email Interception & Reading
You can intercept all email traffic sent and received via webmail with this potent monitoring tool for Windows. The email will be displayed along with the subject, the content, and time stamps.
Tracking keystrokes
Keyloggers let you see what is being typed on the target computer's keyboard. You'll be able to track everything from software usage to conversations, searches, and emails.
Monitoring app usage
On a desktop, there are many apps, and iSeeGuard lets you monitor their usage. App usage counts are shown along with the app's icon and name.
Tracking login activities
Because it displays the administrator's name, it may help you figure out if somebody unknown has entered the target computer.
Activity tracking for files & prints
Provides the ability to record all file-related activities and print commands carried out on the target computer. iSeeGuard can be used to record a deleted, copied, or renamed file if it occurs on the target computer. In addition, the given path can be used for checking the file.
Keeping track of USB connections
Even the USB connection can be tracked. Furthermore, File Manager, Process List, Installed Software List, Hardware List can also be tracked.
Workplace productivity and employee monitoring
iSeeGuard lets you know if your workers are doing assigned tasks timely. If they switch to apps and links unrelated to work, you can quickly figure it out through this software.
It will help you remind workers of their work, and the projects will be received timely and productively.
Manage your team remotely
To keep an eye on your team's work activities, you can install iSeeGuard. It helps you whether workers are doing the targetted work or not as this software monitors their gadgets.
How to Monitor Employee Computer with iSeeGuard Computer Tracking
Implementation of the software Setting up this software takes only 5 minutes. Here is how to unlock its features: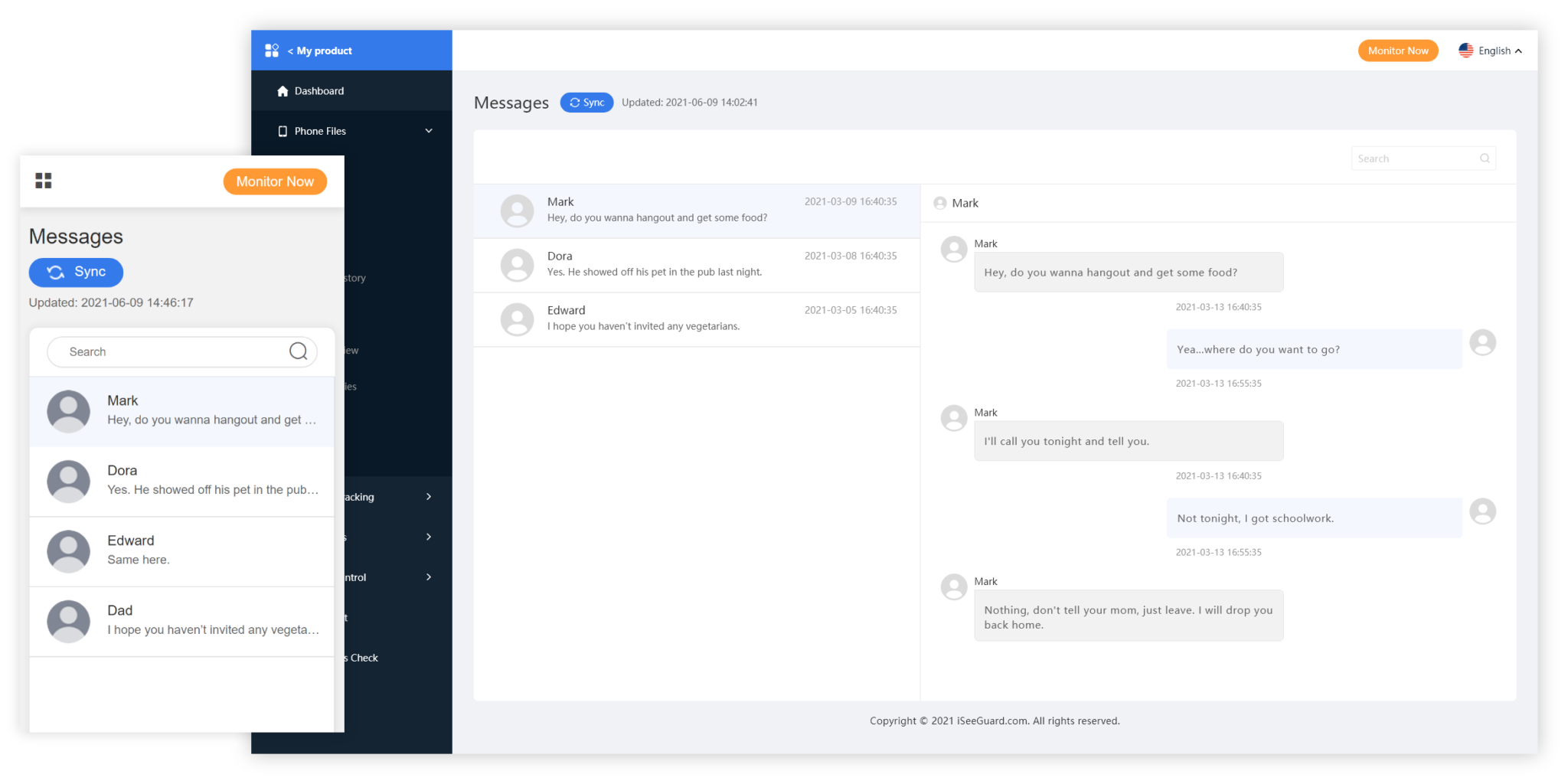 Signing-up & Purchasing a Plan
Set up a valid account and choose a plan that meets your needs.
Download & Install Software
Upon installation on the targeted computer, follow the on-screen instructions to configure our software.
Online website
Open iSeeGuard's website on your computer. After logging in with your license account, you will receive an online dashboard to check and monitor the data from the targeted computer.
iSeeGuard Trumps the Competition
iSeeGuard is superior to all the others because
The software will monitor the target computer's activities without the target being aware of it
It is free from any kind of viruses
By logging into the portal anytime, anywhere, you can access all records from the monitored computer
Security and privacy are our highest priorities
What's The Delay? Sign Up Today
Sign up now by creating a valid account and purchase your Aspired Plan now. Take control of your life with iSeeGuard.
Don't Just Trust Our Words

As a parent, I was always scared of what my son is up to. I subscribed to iSeeGuard to keep track of my son's searches and activities. Now, I can see what my son is doing on his phone without him realizing it. It has helped me be carefree as a parent. Thank you, iSeeGuard!
– Lynn, US
I am an entrepreneur, and some of my team members did not submit tasks timely even when they used computers during working hours. After being recommended iSeeGuard by my partner, I installed it. It has proved to be a great help as I have figured out that these workers play video games on the computer instead of working on projects. They were warned of this unprofessional attitude, and now, I get tasks on time without delay. iSeeGuard is great!
– Adam Cheise

We run an online store. I have two employees, and one of them was not patching orders at a time. Due to this, I was exasperated and bought an account on iSeeGuard. Now, I can see if he is responding to customers promptly. If he doesn't, I hold him accountable for it. So, he has become very productive now, and my customers are delighted with our brand due to on-time delivery.
– Floyd Staller

The employee's work efficiency is not high, the company's performance can not be improved, and I have a headache for a long time. Later, my friend recommended me to use the super-eye computer monitoring software. After using it for a period of time, it can really regulate the way employees work and improve a lot of efficiency.
– Marina
What Are the Best Tracking Apps for Windows?
When it comes to monitoring the activities of a Windows computer, nothing can be better than Windows tracking apps. However, since there are all kinds of Windows tracking apps available all over the internet, one should know how to find the best tracking app for Windows that will have all types of Windows monitoring features, won't cost much, and also let you track on a Windows computer or PC without allowing the other person.
Since PC and laptops are the best devices to find information on the go, people can use them to do unethical things. PC or laptop monitoring becomes prudent when you see your loved ones spending a lot of time on them. If you are a parent, you should think about what kind of websites do they visit. Are they using adult chatting websites and talking to unknown people who are pretending to be of their age, playing games nonstop, etc.?
Such activities are never healthy for a growing mind, mainly because they could become victims of online abuse. So, to help you with PC monitoring, we have hand-picked six PC tracking software that you can think of trying.
Top 5 Best Tracking Apps for Windows
There are multiple Windows PC or laptop tracking tools, but we will recommend learning about each tracking app that we have listed below by visiting their website. Please note that different websites will provide you with various features, but one thing that each will have in common is the monitoring feature. Therefore, before you pick one Windows tracking software, ensure to check each one carefully.

Also, think about whether you want to have a paid or free Windows monitoring app. Finally, think about the budget you have and the kind of activities you would like to monitor. Accordingly, choose a tool that suits your budget and requirements.

FlexiSPY

Price: 1-month: $68.00 | 3-month: $99.99 | 12-month: $149.00

FlexiSPY is a leading tracking app. You may have heard about its mobile app version, but you may not be aware that FlexiSPY can also monitor Windows PC and laptops. You can use it to check email, take screenshots, webchats, desktop chats, social media, and much more. FlexiSPY is a reliable Windows PC and laptop spying tool with good features.

Key Features
The screenshot feature allows you to take screenshots of the PC activities. The feature lets you take real-time screenshots.
The web browser feature lets you track exactly what they are searching for on the web browser. Whether it is an adult site, a dating site, etc.
FlexiSPY also lets you check all the available Wi-Fi networks on the PC. It will allow you to see which Wi-Fi network is being used to access the internet even if you have restricted them from using it.
The alert feature warns you about the online behavior of the target person. This way, you don't have to spend hours monitoring the target device.
The app usage feature tells you about the different apps the target person uses and how much time they spend on these apps.
pcTattletale

Price: Family: $99.00 | Family Plus: $147.00 | Business: $297.00

If you are looking for free computer monitoring software, you may want to try pcTattletale. This is not essentially a free tool but offers a free trial. This lets you do free computer monitoring before deciding whether you should invest in it or not. This Windows PC monitoring software is leading with its robust PC monitoring features.

Key Features
pcTattletale lets you record videos of the target person's Windows PC or laptop. This happens remotely.
The monitoring happens in real-time, and pcTattletale lets you do live tracking of the PC.
The activity feature lets you see what kind of activities the target Windows PC or laptop has done. For example, WhatsApp usage, chatting app usage, and much more.
There is a click activity feature, which helps you learn about the number of clicks made on the target device.
You can also check the details of apps downloaded to the target device and find out about their usage.
NetworkSpy

Price: Free

NetworkSpy is an entirely free computer monitoring app. Unlike other PC monitoring tools, NetworkSpy won't offer a boatload of other features. However, it lets you take live screenshots of the target device's screen. The tool was released in 2008, and since then, it has been allowing users to target any Windows PC efficiently. Even if it doesn't have other features, the live screenshots feature works efficiently.

Key Features
NetworkSpy is a free tool to use.
It lets you take live screenshots of the target Windows PC.
The downloaded screenshots can be shared with other people too.
Set up the NetworkSpy server on the target Windows computer, and begin monitoring the computer.
If you don't want many features and live screen viewing and screenshots will be enough, NetworkSpy will be a good option.
Kidlogger

Price: Basic: Free | Professional starts from $29.00 for three months.

Kidlogger is reliable tracking software for PC that comes with good computer monitoring features. With the help of this tool, monitoring computer usage will become easy. One needs to install the tool on the target computer and start monitoring it without letting the target person know. You can check multiple things through Kidlogger, such as web history monitoring, time tracking, keystrokes, etc.

Key Features
Kidlogger allows parents to monitor web history and find out what kind of websites their kids visit and explore.
You will learn how much time the target person spends on the target computer.
Kidlogger can record keystrokes, letting you know what the target person types.
You can take a screenshot of the live screen of the target computer.
You can check the files and folders of a computer too. Along with that, you can also check the most used applications.
SpyAgent

Price: $69.95 for a single computer.

Next is SpyAgent, which boasts its 30+ different monitoring parameters. The best part about SpyAgent is that it lets you monitor the target device discreetly, which means the target person won't know they are being monitored. The Windows app monitoring app is trusted by many and provides you with detailed activity log reports.

Key Features
SpyAgent can record keystroke logging, which you can check to see what they type on the target device.
The tool captures screenshots efficiently. You can take screenshots of almost every activity of the target computer.
You can check what kind of websites they check on the browsers. The tool can scan all kinds of browsers.
You can check the kind of applications the target device has.
Moreover, you can also check both incoming and outgoing emails.
Conclusion
These are the top five Windows tracking apps to try. The ones we have listed here work efficiently and do an excellent job at monitoring the target device. Remember that you will have to install the Windows tracking app on the target device before you get started with the monitoring process.

Once the tool is downloaded on the target device, you can quickly check their activity using the dashboard of the tracking app on any computer's browser. So, pick your choice and start monitoring a computer.

Read more