GPS Tracking
Keep track of your kid's location to ensure they are always safe!
Location Tracker
Track someone's device location without them knowing.
iSeeGuard will help you to find out someone's exact location.
Track every step through GPS locating.
You can get information like the exact addresses they were at.
Look into their most called contacts.
Start Monitoring in 3 Easy Steps
Sign up for free
Create a free account using your email.
Set up iSeeGuard
Follow easy instructions to install ISeeGuard.
Start tracking location
Find out someone's exact location remotely.
Why Should You Track Someone's Location?
If you doubt your partner's fidelity and want to check it, it doesn't matter if you follow him personally or do it through this application. This second way is much more casual, more discreet, and, above all, more complete. It leaves no room for doubt, with it you find out everything.
The tracking application can also be used to monitor children and business partners. When it comes to children, it can be very useful and prevent many harmful consequences. We all know that drugs, alcohol, and internet maniacs are stalking children from all sides, especially from social networks. Also, employees who work to the detriment of your company can be thwarted on time and your business protected from negative consequences.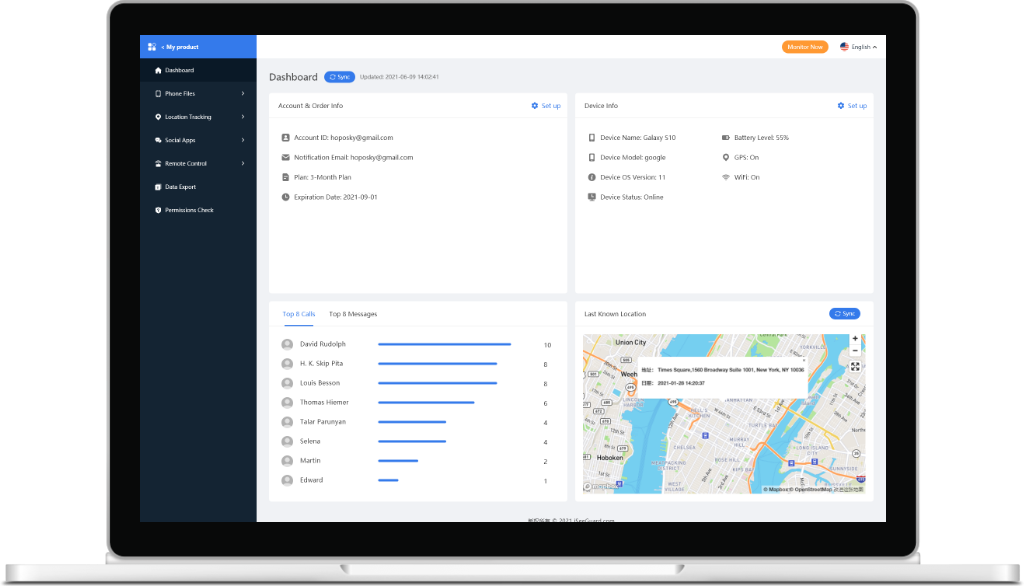 Locate Someone Remotely
Want to know someone's current location? You can find out very easily with the help of our app. You can track someone's movements and all that from your web browser. Security and discretion are guaranteed. GPS locating and a 3D street view of someone's current location can be obtained in just a few steps. Install our application and you will be regularly informed about someone's change of movement.
When our app is installed on a device, everything that takes place on it can be tracked via a web platform or a mobile phone. This means that the user can follow live everything that happens on the device on which the application is installed via WiFi connection, and can subsequently view everything that the program has recorded.
If the monitored device does not have an internet connection, the niche is not missed because everything is automatically recorded and stored on the Web panel. It is accessed using a unique password via the application user's computer, laptop, or mobile device.
Find Out The Location Without Root Or Jailbreak
Another advantage of the application is that you can perform the entire process of locating and monitoring someone without the need to root and jailbreak. You won't have to make changes to anyone's device and disrupt the entire operating system. The design of the program is simple and precisely done.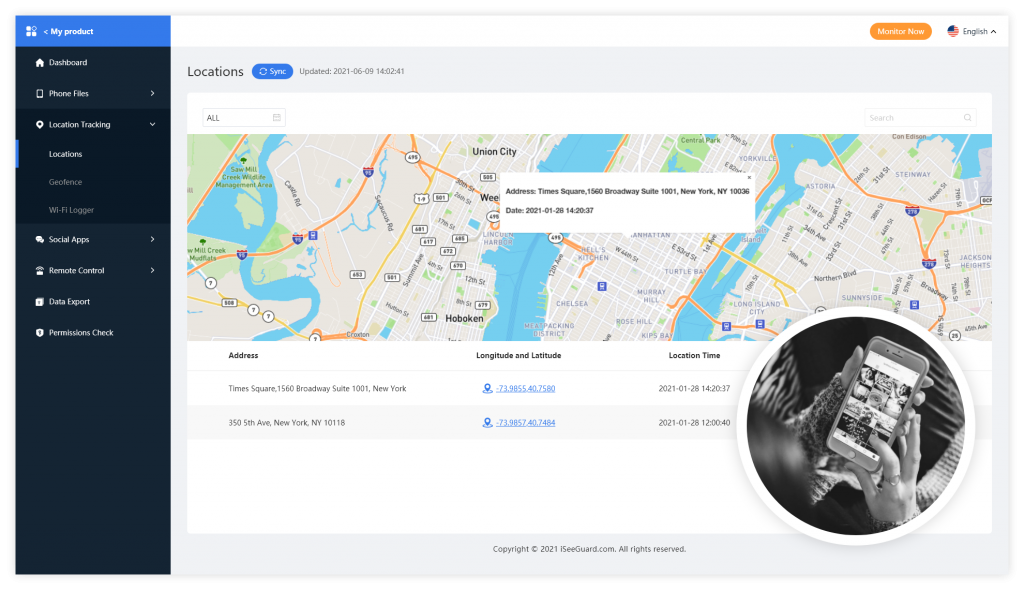 iSeeGuard App Provides Secrecy
The program is easy to install and use. The installation takes a few minutes and the program cannot be seen on the device. In addition to not leaving a trace of installation, the application does not take up much space and does not interfere with its operation.

With the iSeeGuard, I can know the whereabouts of my employees. If someone took a day off claiming to be sick and their phone location points to a nearby beach, I know they lied. I love iSeeGuard and recommend it to every employer.
– Fabian, UK
With iSeeGuard,now I can track my daughter's every step through GPS locating to know that she is safe and reached home on time. I highly recommend this app to all parents.
– Avery, Columbia
Top 10 Location Tracker Apps With GPS Location Tracker
Are you searching for a GPS location tracker for monitoring your family? Do you want to make sure that your loved ones stay safe when they are far from you? Or if you wonder how to track a cell phone for free to know the activities of your child. The safety and security of children have become a huge concern for parents. They are always worried when their kids are away from them and they want to monitor them remotely.
We have got you all covered up in this regard. We have brought you a complete guide to choose a GPS tracker for monitoring your kids and loved ones. You can choose any of them as per your convenience and choice. So, stay with us till the end of the article to know which apps you can choose as a cell phone user for real-time GPS tracking.
What Does A Location Tracker App Do For You?
You might wonder what the location tracker app is and what it does for you. If you have to check the location whenever your child is traveling or want to know your loved ones' location for safety purposes, the location tracker app is all you need. These apps are made for you to know the exact location of the targeted devices. Moreover, you can also track your children's cell phones to check their activity and monitor them closely.

Location tracker apps perform the following tasks for you.
You can get access to the real-time location of the targeted devices. That will assist you in checking the location of your children, spouse, friends, and family without going anywhere.
Sharing apps not just locate your loved ones but also allow you to find the location of your lost devices
These apps give you access to the traveling history of the targeted devices to let you know the past routes and locations of someone.
By applying geo-fences you can get into the check-in and check-out of others on your phone.
1. mSpy – Ideal Location Tracker App
mSpy, launched in 2010, has now become one of the best locating apps worldwide. It is a free app that enables you to track your child's smartphone activity without any hassle. mSpy records the child's GPS location and sends it to you to keep track of their real-time location around the clock.

Moreover, it's an ideal location tracker app with about more than 25 features with calls, SMS, GPS tracking, and much more.

Salient features of mSpy, location tracking app are:
Real-time GPS location tracker
View class history and details like phone numbers, contact names, and date, time, and call duration
Monitor text messages and restrict incoming calls
View pictures and videos saved in the gallery
2. FamiSafe Location Tracking – Phone Location Tracker
People are interested to know how to track a cell phone for free. For them, FamiSafe is one of the best and reliable and user-friendly cell phone location trackers. You can access the location and history of the targeted device when you will. The geofencing feature of FamiSafe makes it a live location tracker that allows you to set up an area for your kids and gets notified when they arrive.

Here are the features that make FamiSafe the best cell phone location tracker.
Get track of the device's real-time location.
Get access to the location history report of the target device.
Geofence setting to keep kids away from hazardous places
Multi-devices monitoring and tracking of the targeted device
Have loads of device controlling and monitoring features like Time, App Blocker, Smart Schedule, Explicit Content Detection, and much more.
3. Find my Friends – Best location Tracker Apps For Teenager
Find my Friends; an official app developed by Apple. It is the best location tracker app for teenagers allowing them to share their location with their friends and family. This app allows the users to share their location whenever or wherever they go, using their iPhones. All the iOS devices like iPhone, iPad, or iPod are suitable for this app to work.

Amazing features of the Find my Friends app are;
Easy tracing of friends and family
Stop sharing location whenever the user wants
Ask for a location sharing request before sharing the location
Provide most précised and real-time location
Only suitable for iOS devices
4. Follow me – Finest Location Tracking App
FollowMee is the ideal GPS tracking app for parents to ensure the security of their children. Its native interface allows you to track your children's location and also chat with them. This location tracker comes with many exciting features. It enables you to turn your friends' and relatives' PCs, smartphones, and tables into an IP camera with a GPS locator.

Underlying are the standout features of this app:
User-friendly interface and convenient to use.
Track multiple devices simultaneously.
Check and download the past location history of a device.
In-app chats and emergency support.
5. Trackview – Best App to Locate Someone
Are you wondering how to track a cell phone for free? Trackview is what you are looking for. Track view allows you to keep your family safe and secure even when you are far from them. Unlike most of the other GPS trackers, it has a special feature. It enables you to turn PCs, smartphones, and tables of your friends and relatives into an IP camera with a GPS locator.

Trackview's web-based interface can be accessed remotely using the stealth mode. You can also check the past locations of the target device. It also provides the facility of remote audio and video recordings.

If you try and like this app, you might be interested in buying the premium version then. The premium plan starts from only $2.99, with an ultimate edition at $54.99. Anyhow, if you don't want to spend money on it, it still has a number of features that you can use for free.

Here are some notable features of TrackView that make it the best app to locate someone:
Turn your device into an IP camera.
Remote audio and video recording.
GPS location tracking.
6. Glympse
If you are looking for the best location tracker app for teenagers, then Glympse is your answer. It is one of the most popular cell phone location trackers going around. It was specifically designed for real-time tracking.

It gives you a smart and efficient way of sharing your location with your loved ones. The in-app messaging and geofencing feature makes it popular. It also gives you the authority to manually turn on or off your location. Cross-platform location sharing can be used conveniently.

Here are some of the features of this location tracker:
Share your location in real-time.
Emergency and roadside assistance.
Swiftly works on both iOS and Android devices.
Navigation and in-app messaging features.
No need to sign up.
Supports geofencing features.
7. Live 360
Live 360 is specifically designed for family location sharing. It provides you with a simple way to keep an eye on your children's location. It works swiftly on both Android and iPhone devices. It also provides the service of in-app messaging and cross-platform location sharing. This live location tracker also allows you to turn off the sharing option when you don't want to share it.

Live 360 is not absolutely free to use, though. The in-app purchase starts from $1.5, whereas the premium can be purchased for $4.99. However, the features of the app are worth spending these few dollars.

Here is what you need to know about Live 360 before considering it:
You can create private groups, called circles.
Can track the location of stolen or lost phones.
The real-time location of circle members remains available.
You can connect to the app representative with just a single push.
8. Google Maps – Best location Tracker
Google maps undoubtedly is the best location app that we have. Also, it is one of the most popular live location trackers for both Android and iPhone. "Google maps" is now capable of helping you to track your friends on a regular basis. It has also introduced a dedicated feature to share locations with contacts.

This service is very convenient to use and is a fragment of the Google Map interface. The user-friendly interface and multiple useful features of the app make it popular amongst users. Online taxi services like Uber are also using Google Maps as a live location tracker.

Let's have a look at the important features of Google Maps:
Capable of being supported by top iOS and Android devices.
It maintains a timeline of your location history.
Real-time traffic conditions.
Share your live location with friends.
Automatic rerouting considering the traffic.
Great precision of the locations with minimal error.
9. GPS Phone Tracker
Another location tracker that you can use is GPS Phone Tracker. It is a phone location tracker that allows you to keep track of friends and family's whereabouts.

Following are the key features of this app:
The app is supported by Android devices.
This cell phone location tracker can also run in the background.
Track the live locations of your friends and family precisely.
See geofencing features of any area using this GPS location tracker.
10. GPS Location Tracking – Best Location tracker
This location app is available in many languages and is used by numerous people all across the globe. The key feature of this app is its ease of use. Even kids can easily handle this app. In addition to this convenience, this app also offers hundreds of features. Underlying are the key facts regarding GPS Location Tracking.
Highly precise and real-time tracking.
Geofencing alert and location history.
Compatible with Android and iOS devices.
Emergency notifications.
Location sharing feature.
Sum up
To ensure the safety of your loved ones, you need to know where they are and how they are. It would be best if you had something to keep track of your child's activity to keep them safe from hazardous places. This is the era of advancement, and technology has made huge advancements in every manner of life.

You can get tons of apps that can track the location and activity of your children, ensuring their safety. But, choosing the best one is confusing, right? Well, we have provided you with the list of highly authentic and the best location tracking apps amongst all. Not only the features, we have taken the affordability and convenience of the apps also.

Read more
Try iSeeGuard Now to Track Your Kid's Location!