SMS Tracker
Track text messages on iPhone and Android without being noticed.
Check Texts and Messages
Gain access and monitor someone's messages.
iSeeGuard allows you to find out who they are chatting with.
Read every sent or received message and iMessage.
Keep track of deleted messages.
Look into their contact details and shared media files.
Install ISeeGuard to gain access.
Start Monitoring in 3 Easy Steps
Sign up for free
Create a free account using your email.
Set up iSeeGuard
Follow easy instructions to install ISeeGuard.
Start Monitoring Texts
Start reading and monitoring texts and messages.
What Can You Learn From Someone's Messages?
Wondering why you would monitor someone's text messages? Much useful information can be obtained by reading someone's text messages. If you want to check someone's suspicious behavior, our application can help you. Easily find out what a person is writing and chatting about from any place and at any time. Our application is designed to be secret and secure.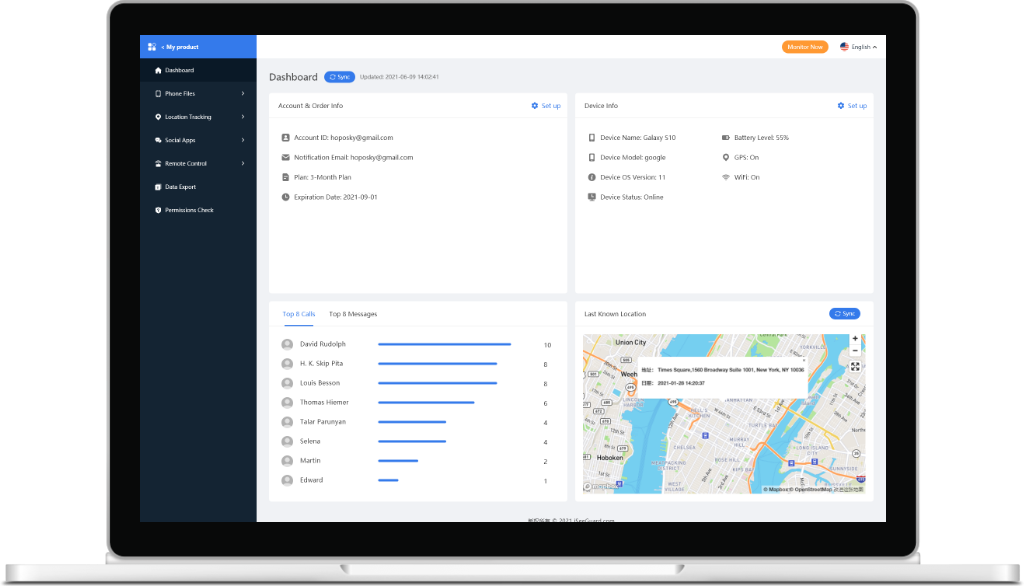 Want to know if your children are safe?
Do you worry about the safety of your children? Any child can be contacted by any abuser, fraudster, or sexual predator. If you want to ensure the safety of your child, with our app you can easily check any suspicious person with whom your child exchanges messages. In the digital world, one of the safest ways to protect your child is to gain access to their devices.
Are your employees committed to the job?
Want to know if your employees are loyal to you? Wondering if they are secretly exploiting information and passing it on to your competitors? Or maybe you want to know if they got other business offers? You can get answers to all these questions by monitoring their business phones. Our app offers discretion and security.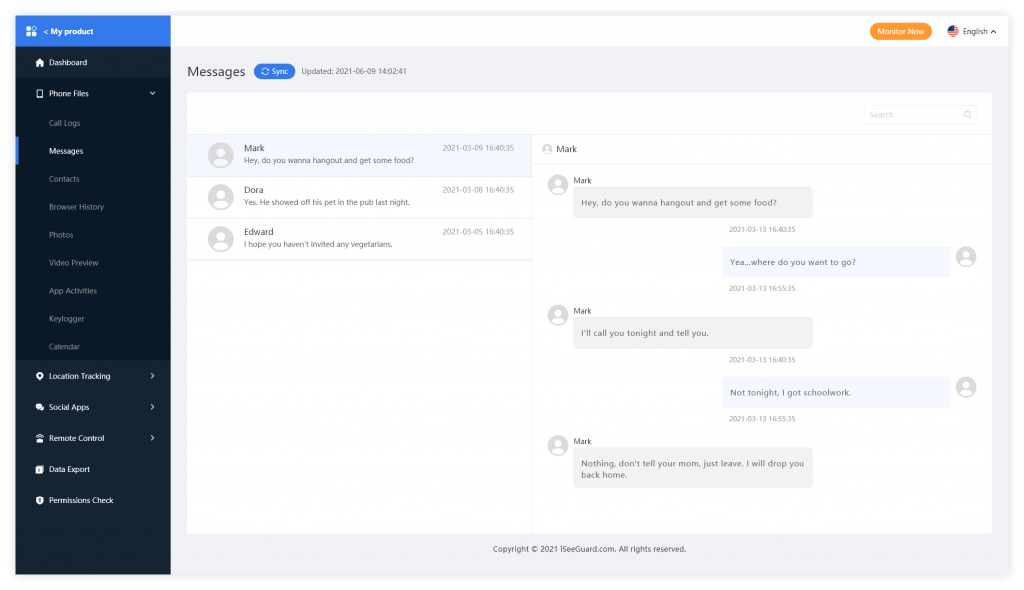 Is your partner cheating on you?
Do you have doubts about your partner? By looking at their messages, you can find out what they think or how they feel about you. If you suspect that he/she is cheating on you, based on the messages, you can find out exactly who they are texting with and what messages they are sending.
Access Messages Without Root
With our app, you can monitor Android and iOS devices without rooting and jailbreaking. The application can be easily installed in just a few steps. Root and jailbreak can expose the device to various problems and lead to loss of warranty.
Read Messages in Secret
You can read text messages quickly and easily. Our application provides 100% security and invisibility. A small version of only 2 MB that can be hidden has been made for Android. The application runs in the background, covertly and without draining the battery. The iOS version is designed to be completely Internet-based.

My teen son got upset every time he received a message. I was worried and installed iSeeGuard to identify that mysterious person. What I saw blew my mind: he bullied him and sent awful emojis and messages. I could also track the deleted messages. We met up with parents and talked the whole thing. It saved my child.
– Tom, US


The app helps me track all sent and received messages on their phones and social media apps. I can check online what they have been doing to estimate performance and increase our sales.
– Stella, Canada
10 Best SMS Tracker Apps for 2021
Are you worried that your kid might share some personal information on the internet? Or do you want to make sure that your employees use their time and facilities properly? Maybe you are suspicious of how your partner is constantly texting and busy with their devices.
If you can relate to any of these issues and want to keep your loved ones safe, you may want to know how to track someone's text messages?  Or maybe you have some doubts if these track texts really work? We got your back.
By the end of this article, you will not only have all the answers but will be able to pick what suits you best. Keep reading to find out.
1. mSpy
Among all the apps we tried, we found mSpy the best SMS tracker. Specially designed for those who want to keep their kids safe or monitor the activities of their other family members.
Features
Read all SMS and text messages, even the deleted ones, on Instagram, Snapchat, Facebook, or any other app.
Multilingual support, so you can read and understand messages in other languages.
Track the present location and the history of the places through a GPS monitor.
Watch all the internet activities. The sites your child visits, and the apps your employee uses. You can even block them.
A well-organized online dashboard to watch all activities.
mSpy offers three different plans. Allows you to customize the features according to your needs.
Pros
mSpy offers 24/7 customer support.
It is compatible with all IOS and android devices.
You do not need to jailbreak the mobile to install the app.
This app will synchronize every five minutes.
Cons
The basic plan doesn't have as many features as the premium plan has.
It does not offer any free trial.
2. CocoSpy
CocoSpy will help you to track all the online and offline activities of your loved ones. It has great software for SMS tracking. You can download it on phones and tablets. Stealth mode makes this text tracking app hard to detect.
Features
       See all the details about the messages. The contact number and timestamp.
       Track text from all social media apps. Track the incoming and outgoing messages on Android and iOS devices.
       The dashboard will show the five most called contacts, alongside the time, duration and day.
      Access all the pictures and media files in the target device. You can save any picture without their knowledge.
       Contact list with their profile pictures, jobs or business descriptions, and addresses is available.
       CocoSpy offers a basic, premium, and family plan.  
Pros
No rooting is required for the CocoSpy app.
You can install it remotely on iOS devices.
It makes tracking and location monitoring easy.
Millions of people in more than 190 countries are using it.
Cons
Some people may find it costly.
Android and iOS devices don't have the same features.
3. FlexiSpy
FlexiSpy is one of the best SMS tracker apps with unique and most advanced features. Now you can monitor devices on your mobile with their new version, FlexiVIEW. Using FlexiSpy for the well-being and protection of your family and employees is a wise decision.
Features
To monitor a specific type of SMS or activity, you can set a keyword notification.
It enables you to intercept and record the live calls. You can also record the live surroundings of the phone.
FlexiSpy offers two package plans. Premium and FlexiSpy Extreme for more in-depth features.
If you don't want your family members or workers to use any particular app, you can delete it.
Locate a person, and create boundaries to get information if they enter any dangerous area.
Flexispy is the only app that allows you to take pictures or record videos without the user knowing.
Pros
Basic tech knowledge is required to use FlexiSpy.
All software updates happen remotely.
Custom support is available through phone and chat.
Compatible with laptops and computers also.
Cons
Jailbreaking is a must for both iPhone and Android.
There is no free plan or free trial.
4. Kids Guard Pro
Kids Guard Pro is a smartphone tracking app. It is specially designed for parents to monitor their children's text messages and other internet activities. However, you can use it to monitor your workmen also.
Features
You can read all messages from Facebook, WhatsApp, and any other source.
You can check the incognito web and browsing history of your kid's device.
Use the Geofence feature to know if the target device leaves the marked area alongside their current location.
Get the complete data of who is calling your kid, when, and how long they are talking. Even deleted call logs are available.
Any inappropriate app your kid tries to download, kids Guard pro will let you know.
Kids Guard Pro has three different subscription plans for Android, iOS, and iCloud.
Pros
The app will stay hidden from the user.
The app can be used on Android and iPhone without jailbreaking.
Can see the videos shared on social media.
Data update from the target device is fast.
Cons
Have to install the app physically on the target device.
In Call recording, voice quality is not very good.
5. IKeyMonitor
Ikeymonitor is an advanced SMS tracker for iPhone and Android. It gives the parents complete parental control. However, you can use it to track your unfaithful spouse or lazy workers also.
Features
Its best feature is to monitor all keystrokes. Hence, it enables you to see the password or any text typed.
Email notification allows to set keywords alerts and send notifications when those words are used.
Ikeymonitor has the option to take screenshots from the target device.
With Ikeymonitor, you can manage kids' screen time. The screen on the target device will turn dark after a set time.
You can read and delete any email from the other device.
Block any app you don't want other people to use. Thus even if they reinstall that app, it won't work.
Pros
It will keep working in the background without target device users knowing.
Have the option to switch on and off the app.
Ikeymonitor allows a three-day free trial.
This app supports multiple languages.
Cons
Some people might find the Control Panel a little confusing.
With Apple devices jailbreaking is a must.
6. MobiStealth
A very reliable software of Mobistealth allows the user to track text on mobiles. It enables you to track all other internet activities.
Features
Mobistealth allows you remote access to all the incoming and outgoing messages. You can see the date and time stamps. Plus all IM's communication.
Mobistealth is compatible with iOS, Android, Mac, and Windows Pc.
You can record the calls but only on Android phones.
Access the web browser history to ensure that the other person is not visiting some ill-suited sites.
Pros
It is an affordable app.
The app is easy to use and manage.
Mobistealth updates the data regularly at a fast pace.
Cons
Offers limited features compared to other apps.
Rooting is necessary to monitor IM's features
7. Copy 9
Copy 9 is an affordable mobile SMS tracking app. It will provide completely hidden and secure monitoring. Use it to see the SMS and text of your family members. Or check if your employees are using technology and time accordingly.
Features
Track all the messages and calls made on the target device and those made on social media apps.
Make a call to the target device and get an answer automatically.
With the help of a keylogger, see all the keystrokes.
Send an SMS command to the target device to do any action.
You can get all the notes that are stored on the other device.
Pros
Efficient and quick customer support.
Offers many great features.
Support a wide range of social media platforms.
You can wipe data from the other device remotely.
Cons
Can't install without rooting.
8. Hoverwatch
If you want a mobile SMS tracking app. Hoverwatch is a perfect app for you. It is not only used as an SMS tracker for Android but is ideal for desktops and laptops. That makes Hoverwatch a suitable choice for personal and business purposes.
Features
Read and keep safe any conversation, text message, or SMS on any platform.
Whenever the user unlocks the device, you can take photos through the front camera.
It helps you to keep an eye on the work schedule of employees.
Even when the wifi and location are off on the target mobile, Hoverwatch lets you know their whereabouts.
You can change the setting or delete the app remotely.
Pros
Hoverwatch offers almost all features with a basic plan.
All recorded calls have clear sound.
No need for rooting.
Installation is simple, even for a novice.
Cons
Not everyone finds it cheap.
Provide more features for in-rooted devices.
9. Spyic
Spyic is very popular as an SMS tracker for iPhone. Spyic offers all the basic features that can keep your kids safe. Monitor the text on all apps, Gps location, call logs, and browser history.
Features
      The tracker records all the text messages and chats. Thus making it easy to retrieve deleted messages.
       In case the person you are monitoring changes the sim card, you will get a notification.
       You can access the gallery and see all the media files saved there.
       No installation on the iPhone is required. Knowing the iCloud credential of the targeted device is enough to monitor it remotely.
Pros
You can personalize the app as per your needs.
Spyic has a user-friendly interface.
It has a dedicated team to help to solve any issue.
It is a ghost app, so it can't be detected.
Cons
The basic version doesn't offer all the features.
No live monitoring and call recording are available.
10. Spy Bubble
SpyBubble is straightforward and comprehensive software. It is one of the best SMS trackers for Android. Nobody wants to invade their partner's privacy unless there is no other way to keep them safe or protect themselves from any heartbreak. That is where Spybubble is helpful the most.
Features
You can see the saved contacts, messages, and media files and can obtain the deleted ones.
SpyBubble lets you record the calls or listen to them live. Know the contact details besides the time and call duration.
It allows you to use any web browser or mobile phone to track the target device remotely. Distance doesn't matter anymore.
You can have complete access to the Instagram and Facebook accounts of your kid or spouse. However, they will receive notification if you log in to their accounts.
Pros
SMS tracking is its main feature, along with many others.
The app will take screenshots and upload them regularly.
Monitor what your kid is watching on Youtube.
Cons
Need to access the target device for installation.
No live webchat is available.
Conclusion
When used for proper reasons, these top SMS tracking apps provide great assistance. Especially to those who want to prevent any mishap, either in parenting, business, or relationship. We write this review article to help you know how you can monitor someone's text messages.

Whatever app you pick, make sure to check its compatibility, features that you want, and prices. This way you can save money and time. We hope that any doubt about whether these text apps really work is cleared out. Are you ready to take practical steps to ensure the safety of those who are important to you?

Read more
Try iSeeGuard Now to Track Your Child's Messages!