Snapchat Tracking App
Track who your kids are chatting with on Snapchat secretly.
Monitor Snapchat Activity
Secretly monitor kid's Snapchat activity.
Find out how they use their Snapchat.
With ISeeGuard, you can read all messages and conversations.
View shared photos and videos.
See activity on Snapchat without being noticed.
Find contact details, profile pictures, and numbers will be available.
How To Start Tracking Snapchat Easily?
Sign up for free
Create a free account using your email.
Set up iSeeGuard
Follow easy instructions to install ISeeGuard.
Start Monitoring Snapchat
Start tracking someone's Snapchat messages and other activities.
Secretly Monitor Snapchat
Snapchat tracking that allows you to eavesdrop on the Internet is the easiest and most discreet way to find out what is being done on someone else's phone. You can install the app on your target phone to physically access it. Now take access to the dashboard and visit the tools that will allow you to track on Snapchat on the target smartphone at any time.
You will be able to access all messages, screenshot on Snapchat,even the deleted ones, pictures, videos, and much other information. And you can get it all remotely, from any web browser. The application will do all this in secret.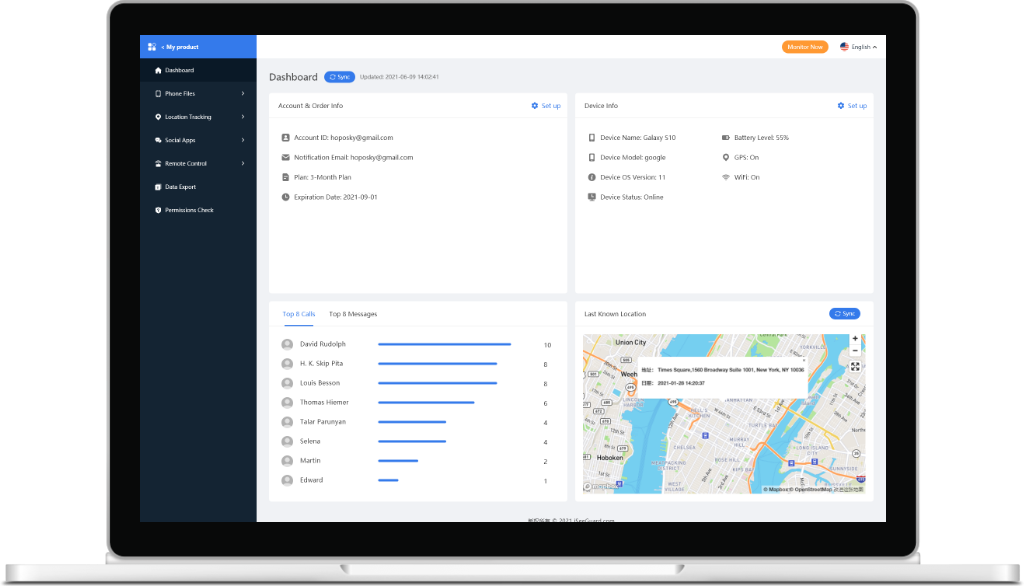 Why Should You Monitor on Snapchat?
Today, monitoring has become the only reliable option to make sure your loved ones are safe. This app is great for tracking your employees or your kids. You can even back up data from your phone or track if a phone has been stolen. You can monitor logs such as messages, media files, voice and video calls, and voice message logs, even open a snap without them knowing.
If you doubt the fidelity and sincerity of your girlfriend, boyfriend, or spouse, you assume that the child has fallen into bad company, or you want to check what your company employees are doing-our app is invisible tracking software for the mobile phone that offers a simple solution that allows you complete control of the device with a code that only you know.
Use App Without the Need to Root or Jailbreak
We have created our app to work without needing to root. Everyone can install our app on any Android or iOS device available, without the need for technical knowledge. The application can be easily installed in just a few steps.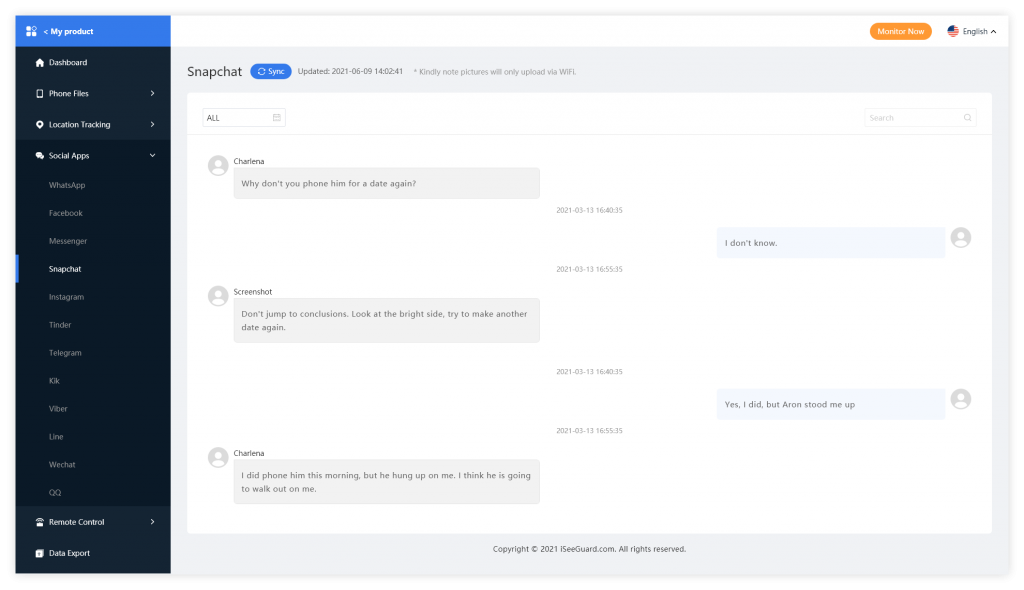 iSeeGuard App Works 100% Invisibly
Snapchat tracking runs in the background and is adapted for low battery consumption. We have designed the application to be discreet and unobtrusive. The Android app version can be hidden after installation. We also made sure the user never finds out that his Snapchat activities are visible.
iSeeGuard Snapchat tracker is amazing! I installed it on my girl's phone secretly and found that she has a boyfriend and exchanges inappropriate messages and photos.
– Eloise, US

I installed iSeeGuard on my teenager's phone and could not believe what I saw on Snapchat. It broke my heart; he was bullying a girl with bad messages and photos. I confronted him and explained it is wrong and he could go to jail. Since then, he has stopped doing that. All thanks to iSeeGuard.
– Norah, US
Top 5 Snapchat Tracking Apps
Is your kid addicted to Snapchat? Do you want to keep them safe from cyberbullying and online abuse? Do you want to ensure that your family does not share any personal information or get exposed to inappropriate content?
If you have decided that the only way to keep your loved ones safe is by monitoring their Snapchat account. But you are not sure which is the best Snapchat tracking app. Well, you are at the right place.
We understand that you have doubts, you don't want to get scammed, nor do you want to share your information with unauthorized people.
That is why we prepared a list of Top Snapchat Tracking Apps. These apps will give you full control over your child, spouse, or employee Snapchat.
Let's find out more about these Snapchat monitoring apps.
Spyine
Millions of people in more than 190 countries are using Spyine to detect the Snapchat activities of their loved ones. Many famous media outlets like the BBC, Forbes, CNET, Buzzfeed, and Techradar have written about this app.

Spyine is a perfect solution for android phones and ios devices. You can easily monitor your child's Snapchat, even if you are not a tech person. You can also monitor their other social media activities with it. The best part is jailbreaking or installing software is not needed.
Stealth Mode
Things could get ugly if your kids or spouse realize that you are tracking them. You don't want that; therefore, the best feature any tracking app could offer is Stealth mode. You can monitor all activities without them knowing. Spyine uses iCloud backup. Spyine doesn't use much battery and works in the background. So it becomes hard for the user to detect any suspicious activity.
Keylogger Monitor
This tool is usually installed on the targeted user's device. However, this is not the case with Spyine. You can record all keystrokes, even the username and password of Snapchat. Everything will be recorded without tracking Spyine's presence.
Text Messages
Spyine allows you to read Snapchat messages (even deleted ones), web searches, and browsing history. Every message will have a date and time stamp and the sender and receiver's full details. For those who want to monitor all activities of their kid, parental control is also available.
Media Files
Children in their teens are not much aware of the dangers they expose themselves to by sharing some questionable photos and videos on Snapchat. However, Spyine allows you to access them.

You will be able to track Snapchat without jailbreak or tricky coding. Just install the app. Subscribe for a month, use a premium plan for a single device, and use a family plan if monitoring Snapchat on multiple devices.

To install on an iPhone, you just need an iCloud account to start monitoring Snapchat.
Pros
Very easy to use and set up.
It has an encrypted server to protect your data.
It is very cost-friendly.
It offers a demo mode.
Cons
You have to pay for a monthly subscription.
Spyic
Spyic has been in the market for a decade and is trusted especially for kids' protection. Parents are always worried about their teens who have access to all social media networks.

 It is the best Snapchat tracking tool for reading texts. In addition, you can track location and check media files. It can be used on android and ios devices.
Keylogger
Each word that is typed and all the keys that are pressed are recorded through a keylogger. Therefore even when the messages and conversations are deleted on Snapchat, you can read Snapchat messages. Time and date will be there alongside the name and phone number of the senders.
Track Browser History
Suppose you want to know what sites your child is visiting. How much time they are spending there. You can track everything through your control panel.
Sim Card, Applications and Calendar
With Spyic you can access the calendar to know about any plans your spouse or kid has, which you don't approve of. Plus, any application, target mobile download or delete, you will know.

You will also get a notification if they try to change their sim.
Pros
Can monitor one or more devices remotely.
It is safe to use.
It can be used from a web browser.
Can run in hidden mode.
Cons
There is no full refund option.
People find customer service lacking.
Flexispy
Flexispy is a tracking app that allows you to monitor all the target devices and offline activities. It is one of the most trusted apps, and many users vouch for it. With this app, you can listen to audio recordings and monitor all activities on someone's Snapchat and other social media platforms. It is an excellent monitoring app for android, ios and computers.
Camera Capture Remotely
Being able to control the camera remotely is a unique feature. It is not found in many tracking apps. You can take pictures or record videos from their snapchat without them knowing.
Call And Surrounding Recording
Most of the tracking apps allow you to see call data. However, Flixspy allows you to record or listen to the Snapchat audio or video call live. Not only that, but you can activate the microphone and listen to real-life conversations.
Keyword Alerts
Instead of reading all the text messages and recorded conversations, you can set some keywords. Whenever these specific words are used in messages or web searches, you will get a notification. Hence, you will know if your employee, child, or lover is doing something inappropriate with the help of a keywords alert.
Location Tracker
Flexispy provides a live map so you can know the exact location of your target. You will also get the info about their previous locations.

With this location tracker, set boundaries and see if the person you are tracking crosses them.
Pros
It is impossible to detect.
 Exclusive Snapchat tracking.
Monitor real-time browsing history.
Excellent support system.
Cons
Jailbreaking and rooting are mandatory.
It is expensive.
Spyzie.io
When it comes to the child's security parents, go beyond their limits. Spyzie can be called a parental control app. After installing on the targeted device, you will get call logs, location messages, and browser history.

Spyzie provides a user-friendly interface along with powerful Snapchat tracking features.  
Dashboard
All the recent and essential information is available on the dashboard. The location, the most recent call history, and the apps they are using will appear on the dashboard. Hence, getting an overview of a child's recent activities becomes very convenient.
Call Logs
When it comes to tracking, you want to know who is calling at the target device. However, Spyzie allows you to see the most frequent caller, their call duration. Plus, if you want, you can record the calls. Therefore with time and date, it seems you are looking at the call log.
Browser History
The best way to monitor your child's interest is to see what type of websites they visit. Spyzie will provide you with all browser history so you know what your kid is watching. Alongside the web pages, he visited often.
Text Messages And App Chats
Spyzie allows you to see all text messages that are sent and received. Who is sending, when they are sending, and mostly if these text messages are inappropriate and harmful? All the chat apps like Snapchat and WhatsApp etc. are monitored for complete safety.
Pros
You can get a free trial.
The prices are reasonable.
You can get a sim card location also.
It provides many social media monitoring options.
Cons
You need to access the device physically.
Updates frequently.
Minspy
Entrusting monitoring apps with your and your loved ones' privacy can be scary. But with Minspy, you can relax since it doesn't store any personal data. Many well-known media outlets like FORBS and TechReaders etc., wrote about it. It is one of the best free Snapchat tracking apps on the market. It provides a Snapchat monitoring option for android devices and tablets.
Secret Phone Monitoring
With the Minspy Snapchat tracking app, nobody can know if they are being tracked or monitored until you tell them. This is due to Minspy advanced stealth design to remove any traces of monitoring by a third party.
Call Monitor
For all calls that are made on Snapchat or phone, you can get their data. The caller's name and the number are also visible. But most importantly, you can record their conversation. So that you can protect those you care about from any harm.
Location Monitor
Monitor the GPS location of your child 24/7 and keep them safe. Minspy will let you know their exact location and also provide the timestamp for every location. Or just use a Geofencing feature if you want to be more precise.
Deleted Messages And Media Files
Snapchat messages and media files get deleted pretty quickly. That makes it hard to monitor Snapchat activities. Despite that, Minspy archives all the messages and photos or videos as soon as they are sent or received.
Pros
No private data is stored.
No need for jailbreaking.
Easy to set up and user-friendly.
Very effectively a hidden tracking app.
Cons
Updates can be delayed sometimes.
Conclusion
We have enlisted the top five best Snapchat tracking Apps for you. Now you don't have to waste hours to find the best app for tracking Snapchat.  

In such circumstances, the best thing you can do as a parent is to watch their Snapchat and social media activities without their knowledge. To help you choose, we gave a short but precise review of the top Snapchat tracking apps. See what suits your needs best and start monitoring today.    

Read more
Try iSeeGuard Now to Monitor Snapchat!