SIM Card Tracker
View kid's SIM card details anytime anywhere.
Reveal All SIM Card Information
View someone's SIM Card details, such as the location or the unique ICCID serial number.
Using iSeeGuard will help you uncover important details about someone's SIM card.
You can view the current location of the SIM card remotely.
See network information like the IMEI number, the carrier, and which mobile network it is currently attached to.
Use your web browser on your mobile device or computer and see SIM card activity from anywhere.
How To Start Tracking Someone's SIM Card Location?
Sign up for free
Create a free account using your email.
Set up iSeeGuard
Follow easy instructions to install ISeeGuard.
See All SIM Card Information
Find out someone's SIM Card details directly from a web browser
Find Out SIM Card Information Without Root or Jailbreak
Another advantage of the application is that you can perform the entire process of accessing important SIM card details without rooting or jailbreaking the target's mobile device. You won't have to make changes to anyone's device and disrupt the entire operating system. The design of the program is simple and precisely done.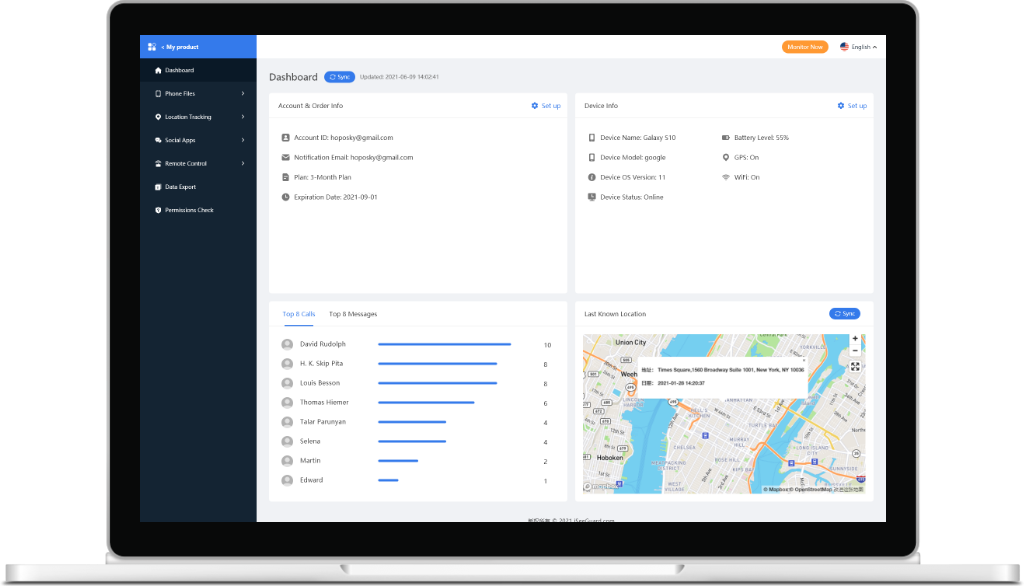 Why Should You Track Someone's SIM Card?
When someone changes their phone number, location, or carrier, some activity you want to be aware of can slip from between your fingers. When you use our app to track SIM card activity, you can see all of these details in real-time, and sign up for alerts so you know instantly if any details are changed. It's easy, safe, and quick, and can be viewed from anywhere you have access to the internet.
This feature can also be useful for your own personal device. Have you ever had your mobile phone stolen? With our GPS tracker app, you can easily search up the location of the SIM Card, report it missing to the authorities, and reclaim it on the same day.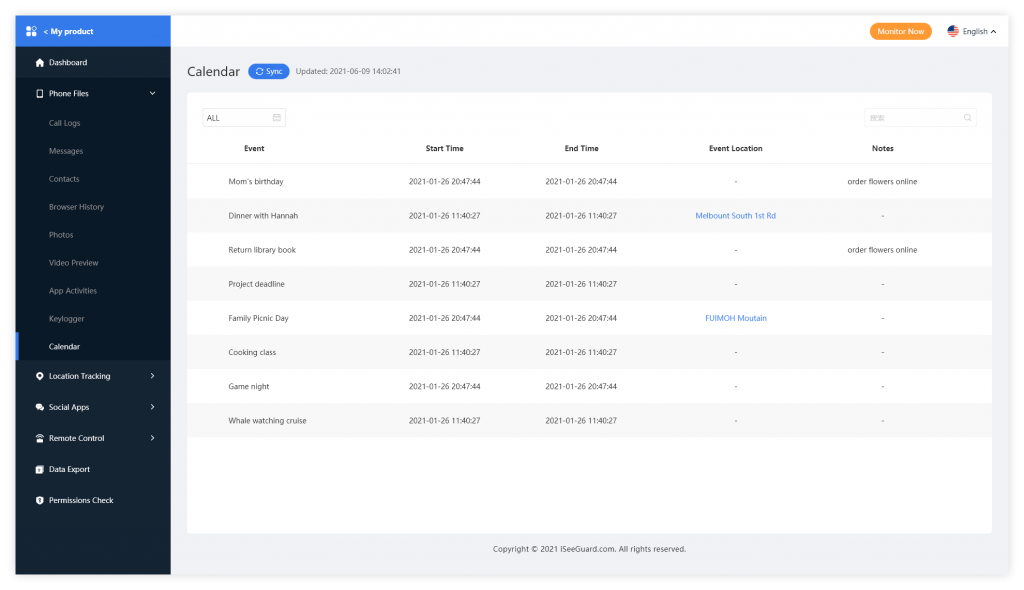 Track in Invisible Mode
If you are worried about your partner's frivolity, then worry no more! Our app is small, consumes little battery, and is very easy to hide. Just download our app – the best sim card tracker on your partner's device, hide it, and you can see everywhere they go. It is especially useful if they often change numbers to hide their activities!

My kid lost his phone, and I was worried if it gets in the hands of a fraudster, it could jeopardize privacy. Thankfully, I had installed iSeeGaurd on it and was able to track it remotely and found that he left the phone at the nearby grocery store. Thank you iSeeGuard, we recovered the phone.
– Oaklynn, US

My teen daughter usually changed her phone number without informing me. I asked her, why, she says privacy reasons. I came to know about the sim card tracker app, iSeeGuard and installed it on her phone. Now, whenever she changes are number, the app sends me the details of the new SIM card.
– Maurice, Canada
Best Five Sim Card Trackers
Are you looking for the best free x sim card trackers but you are not sure how to choose one? Then you have landed at the right place.
Sim card tracker is an innovative product of modern times. It helps to find the location of your sim. It is especially useful if you lose your mobile phone. So you can easily track it, recover your data and get your phone back. It allows you to keep track of someone. Moreover, parents can keep on checking on their children's activities using a sim card tracker.
Finding the right sim card tracker might not be as easy as it sounds. Therefore, in this article, we will guide you about what to look for in the best x sim card tracker and much more. Stay tuned!
What to Look in A Sim Card
With so many options available, it becomes difficult to choose the best sim card tracker app. Here are some features that you should essentially look at before buying one.
It should provide you with the details of the real-time location.
A good tracker should give you essential details about the device—for example, the IMEI number, the device model, and the identification number.
A sim card tracker app should be easy to navigate. An app should have all the instructions on how to download it and use it so that someone who is not tech-friendly can also figure it out.
Since most free apps come with security and privacy concerns, it's better to pay for sim card tracking apps. However, it should come with an affordable price range.
Best Five Sim Card Tracker
Here is the list of the top five sim card trackers you can buy to secure your phone.
1) mSpy SIM Card Tracker
mSpy sim card tracker is one of the most popular software due to the unlimited functions it offers.

Monitor Calls & Incoming Restriction

Its feature, Monitor Calls, allows users to keep track of incoming and outgoing calls. If you want to block any user, you can also do that with the Incoming Restriction feature.

Social Media Monitoring

For text messages, it enables the user to read any message sent or received from that number. You can also read messages of the targeted number from different apps like Whatsapp, Facebook, Skype, etc.

Parental Control Options

For parental control, you can restrict the movement of your child by setting geographical boundaries. If they cross that boundary, you will get a notification.

Customer Support

If you have trouble using the app, you can contact customer support as it offers free live support.

PROS
Incoming Calls Restriction
Track text feature
Works for android and iOs devices
Offer Live Support
Geo-Fencing
CONS
Difficult to install updates
2) Cocospy SIM Card Tracker
GeoLocation

This app tracks the network details and GPS to identify the target's user location. It sends you important details about the device like IMEI number and user information. You will receive the desired information on the dashboard of your app.

Compatibility

It is compatible with both Android and iOs devices. But the difference is that the iOs version only supports a web-based version. On the other hand, on Android, the app runs in the background.

This app has a stealth mode feature if you want to secretly track someone. On the mobile tracker's sign is not visible for Android.

Access to Social media

Like other apps, it also allows users to know the calls, messages, and social apps of the device. Using this app is quite simple.

It costs around $49.99 per month for one device for one month license. It also offers premium and family plans. However, price ranges depending upon the license duration.

PROS
Easy to use
Compatible for Android and iOs
Requires no Jailbreaking
Allows social networking
CONS
Does not have blocking options
3) Spyic
Spyic sim card tracker is another excellent sim card tracking app.

GeoLocation

It identifies the geolocation of the target device using a network provider. It can also follow the present or past location using sim card data. You will also get the details like IMEI number or carrier etc.

Compatibility

It works for both Android and iOs devices. For Android, you can install apps while iOs devices support web browsers.

GeoFencing

Like other apps, it also offers a geofencing feature. You can set up the location and get notified if someone tries to go beyond it.

Message Monitoring

You can also view the message received or sent through the message monitoring feature. Moreover, you can check the social media apps and also see the images taken by the camera.

PROS
Geo-Fencing
Message Monitoring feature
Access to social media accounts
Identifies present as well as the past location
CONS
4) XNSPY
Keystrokes alert

Apart from tracking geolocation, this app offers parental and remote access monitoring features as well. It allows you to restrict and record keystrokes. So you will know if your child has used restricted keystrokes. Moreover, you can also have access to their WhatsApp, Facebook, and other social media apps.

Bookmarks and Emails

You can also check the bookmarked website and emails sent or received on targeted devices.

Check on Phone Calls and Contact

It allows you to see the contact list and call logs on the device. So that you are informed whom the other person is talking to.

24-Hours Customer Support

Its 24 hours active customer support gives a slight edge over the tracking apps. It supports Android as well as iOs devices. It offers two plans i.e. basic and premium. The price range starts from $49.99 per month.

PROS
Monitor Web Browsing History
Access to Social Media
Allows Parental control
24 hours customer support
CONS
Does not support all versions of Android
5) Spyzie
Accurate Identification of Location

Spyzie stands out among all the other apps for its accurate GPS location. It uses the device's phone number to identify the location. It is designed for Android as well as for iOS devices.

Privacy Options

You can record the outgoing as well incoming calls for the mobile. Apart from that, you can also see the messages, images, and videos.

Monitoring Internet Activities

You can check the internet activities of the targeted device. You can get all the information like which sites are users visiting, bookmarked websites. You can even restrict their approach to visit any specific site.

KeyStrokes Monitoring

This app allows the advanced feature of monitoring keystrokes. So you can see the messages in real-time. Even when they change passwords and set them to new ones, you can record that as well.

PROS
Exact GPS Location
Compatible for android and iOs devices
Record internet activities
Can monitor keystrokes
CONS
It does not offer all mentioned features
CONCLUSION
With the increase in cyberbullying and kidnapping, installing sim card trackers has become a need of the hour. Sim card trackers are a great way of securing your data. Moreover, it has brought great convenience for parents. We have provided you with the list of the five best x sim card trackers. Identify which app suits you the most and supports your device. So keep track of your loved ones by installing sim card trackers.

Read more
Try iSeeGuard Now to Track Your Kid's SIM card