WhatsApp Tracking App
Remotely monitor your kid's WhatsApp messages and activities easily.
Monitor WhatsApp
Monitor and find out kid's WhatsApp activity remotely.
Find out how they use their WhatsApp.
With our app, you can read all messages and conversations.
You'll be able to see every shared media file.
Even more information, such as contact details, profile pictures, and numbers will be available.
You can get this anytime, anywhere.
How To Start Tracking Their Messages In Three Easy Steps?
Sign up for free
Create a free account using your email.
Set up iSeeGuard
Follow easy instructions to install ISeeGuard.
Start Monitoring WhatsApp
Start tracking WhatsApp conversations and other activities.
Monitor Someone's WhatApp Activity
With our app, you can monitor someone's conversations via WhatsApp. You'll be able to track someone's messages and calls, whether on a mobile phone, tablet, or desktop version of a popular application. The app allows you to check all conversations and messages without having to be connected to another device. You can do this remotely from your web browser. The application is designed to be hidden and secure.
To get started, you need to download the appropriate version of the device-friendly program. Using the app is simple, but the most important part – you can install it seamlessly on another phone. When you install the app, you are free to use the tracker installed on someone else's phone, and that person will never find out. You will gain insight into much useful information, such as contact details and media files.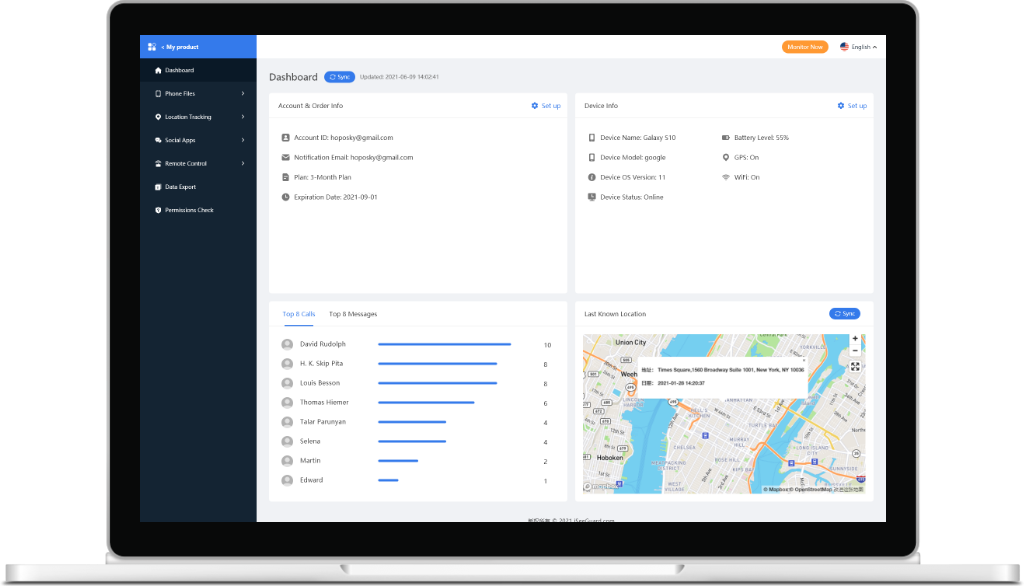 Why Should You Monitor Someone's WhatsApp?
Many people, especially the younger generation, are increasingly hanging out on the Internet and spending most of their free time on social networks. WhatsApp is quite popular among children and adolescents. They communicate, share photos, and discuss plans and secrets. A clean approach to correspondence will allow parents to avoid open conflicts and keep up to date with their children.
If you doubt your partner and want to know how he/she is really behaving, you can quietly install our tracking app and know about all their WhatsApp chats and plans. Parents will be much calmer, knowing their children's conversations.
Clearly, no one wants to track behind them, but sometimes circumstances are stronger than principles. It is in such situations that there is an app like ours, which allows you to see into the world of your child or partner and find out the truth, no matter how bitter it is.
Access WhatsApp Without Root or Jailbreak
iSeeGuard app is carefully made so you can access someone's WhatsApp without having to root or jailbreak their device. You won't have to make changes to anyone's device and disrupt the entire operating system. The design of the program is simple and precisely done.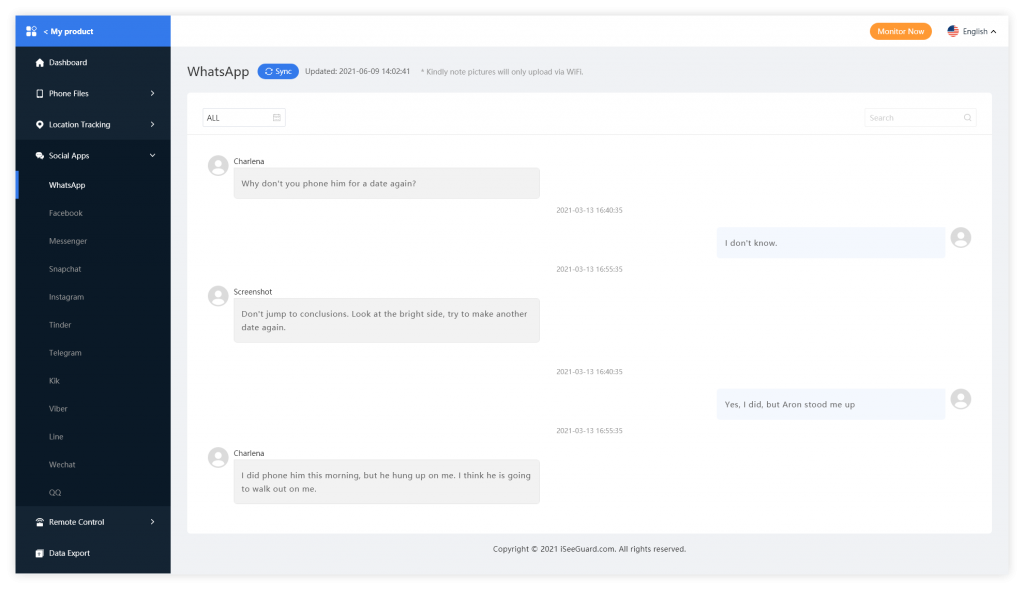 Privacy and Safety Are Guaranteed
iSeeGuard app is easy to install and use on both Android and iOS. The installation takes a few minutes and the program cannot be seen on the device. In addition to not leaving a trace of installation, the application doesn't take up much space and does not interfere with its operation.


My 13-year-old daughter had been skipping school and refused to talk to me. So, I put iSeeGaurd on her phone. One look at the WhatsApp chats and I realized she was being threatened in school. Took the chats to the principal and got it all sorted out.
– Melanie, US
I do not think my teen son realizes that sharing personal photos with everyone can be dangerous. With iSeeGuard, I can access his WhatsApp photos and chats to know what he is up to and what he needs to filter out.
– Kylie, US
Top 5 WhatsApp Tracking Apps
Are you seeking some top Whatsapp tracking apps to keep an eye on your spouse or kid's private conversation but couldn't find any reliable app? Well, if that's what you are surfing the internet, don't worry! We have heard you.
We acknowledge that whatever reason for tracking someone's private Whatsapp messages can be a tough task due to the App's privacy. Therefore, we have done thorough research to help you bring some best WhatsApp spy tools.
Moreover, each of these shortlisted spies has its highlighted features which we have discussed below in detail. So, if you are curious to find out which stands perfect for your requirements, keep scrolling the content.
1. Spyic – Trusted World Wide
If you are looking for an authentic app supported by its audience and work for both iOS and Android, then Spyic is one of those. It wouldn't be wrong if we call it the safest tracking app because of its remote connections.

Yes! You read it right! There is no need to touch any target device or get involved in any suspicious activity. Isn't it sound like hassle-free tracking?

Moreover, with this amazing app, nothing in the world is left behind untracked. Also, we cannot forget to discuss all those amazing features that cannot be listed in this review. Therefore, we have mentioned some highlighted features for a glance:
Safest Connection
Some of these tracking applications require some settings done in the target phone but, here in spyic, everything is done remotely without rooting your target device to any software. It is one of the best features which helps users trust Spyic.
Takes Less Space
Well, one of the biggest fear in downloading any app is the storage issue. However, Spyic takes less space in your target phone, which eventually drains less battery. So, there is nothing to worry about space and battery drainage with our little champ.
Undetectable App
One of the beneficial features of this app is its' stealth mode. It helps in long-term detecting remotely without being exposed. The mode works in disguise as a ghost which helps to prevent any possible harmful effect on your personality.
Offers Full Overview Of Target Device
As we mentioned, there's nothing hidden once you have Spyic. You can track every WhatsApp activity of your target phone. It means you can now see whatsapp chats, read messages, check browsing history, contact numbers hence everything you need to detect.

Let's have a glance at its pros and cons.
Pros
·No jailbreak to a target device.

·Advance options like geo-fencing.

·Monitor media and dating apps.

·User friendly-interface.
Cons
·Limited jailbreak functionality solution.

·No phone customer support.
2. Spyier ─ Market Leading App
Well, in the market of supported apps, we also have Spyier on our list. It is also one of the best apps which are trusted by users due to its various features. It is designed to help you track your suspect's private chat instantly. Not only this, the app just takes few minutes to get started with its job. Well, what else would one need?

Additionally, Spyier offers more than 30 interesting features which can be used to peek at someone's cellphone. These features are available right on your screen to get beyond, just with a click. Let's dig in some of the most used features from this app to help our readers make a great choice.
Progressive UI System
The designers of the apps have designed an impressive dashboard keeping the users' needs in mind. There are several detecting tabs available for you to get started with one click. So, what are you waiting for?
100% Comfort Level
When it comes to a unique and cozy environment, Spyier beats all other tracking Apps. The application does not keep the user's information on its server neither on any other mobile phone. This feature makes Spyeir the most comfortable detecting agent for people.
Can Be Used By Anyone
However, most tracking software has limited use, but Spyeir can be used by everyone. 190+ countries are using this application currently. That includes teachers, parents, employees, in short, people from every category.
All-In-One Tracking Agent
Spyier just not only helps you track WhatsApp activity, but it is also an all-rounder monitoring app. You can use Spyier to get an insight into the entire mobile. It can detect all the activities like phone calls, messaging, GPS location, voice messages, browsing history, and much more.

Well, to make a quick decision, here is a list of some pros and cons.
Pros
·Many advanced features.

·Secure and hidden.

·Privacy guaranteed.

·Quick setup.
Cons
·Same price as competitors.

·Needs to be installed in the target device.
3. Cocospy ─ Legit Spy Solution
So, Cocospy is one of the oldest tracking apps, which is still being loved by the majority. Just like another spying app, it's also one of the trusted and reliable apps. Moreover, there is nothing to worry about as Cocospy is compatible with iOS and Android operating systems.

While adding to it, The app is one of the ultimate parental solutions. Now parents can keep an eye on whom their child is talking to. Cocospy offers the best features to monitor contacts, WhatsApp, calls, etc. Not only this, Cocospy offers a powerfull feature of reading deleted messages. We guess the app has brought ease to everyone.
Keylogger
Keylogger is the built-in feature in cocospy. It helps to detect every keystroke on the target iOS or Android device and keep it safe. The feature has more benefits as you can even imagine the private login credentials, internet surfing, MS word typing, and much more from the target device.
Stealthy Mode
While tracking, the first step is to have the spy software or application hidden; therefore, cocospy has introduced their stealthy mode. This mode helps the application to work in a ghost mode without being detected. However, in iOS, it is an online web program which means the target device is synced through its iCloud id.
Arry Of Impressive Whatsapp Tracking Features
While describing the popular features, we cannot neglect the array of tracking features Cocospy offers to its users. There are multiple effective features if you are planning to dive into someone else's WhatsApp messenger. The app features include reading messages, checking media files, getting into video files, seeking upcoming events and voice recordings, hence every detail of your target device.
Easy Installation
Moreover, Cocospy offers an easy installation process which makes it hassle-free handling for the users. There is nothing to do with the target device for any Android or iOS. All you need is iCloud's credentials of an iOS device to get access to its WhatsApp messenger.

These are some pros and cons of Cocospy.
Pros
·Easy sign up process.

·Proper assistance.

·Arry of features.

·Parental control.
Cons
·No free trials.

·Require root for some apps.

We feel like you have been influenced through these top WhatsApp tracking apps. However, the list does not end here.
4. SpyBubble
If you are looking for something designed for Whatsapp or any free messenger, then SpyBubble is one of the best picks. This app makes it easy to reach any target WhatsApp or any social media. SpyBubble offers the best technologies to go beyond suspecting your target.

Moreover, with the help of this amazing application, you can read deleted messages which one tries to hide. Not only this, the app's control panel offers the best features to help you track what's in your mind. Additionally, SpyBubble offers their user to choose a convenient way of tracking. It can be done through a laptop, smartphone, or any other possible device.
Call Tracking And Logging
This impressive feature of call tracking helps you track any incoming or outgoing calls from the target device. Moreover, this feature helps you to know about the call duration, details of the calling person. Well, if you are looking for this type of tracking, then go ahead!
SMS Monitoring
SMS is the most convenient way of communication and can be deleted easily. Therefore, for ease, SpyBubble has a built-in feature to detect sent, received, deleted, and saved messages in the target device. Moreover, you can also get easy access to the sender's details like phone number, name, identity, etc.
Address Book
Besides all the useful features, the address book has been the ultimate favorite feature for parents. The SpyBubble offers the ability to detect your child's contact and ease of access to their information like phone number, residential address, contact picture. This delicate information can be gained through the well-organized graphic interface of this app.
Social Media Monitoring
Social media bullies are becoming more common in this era. Children's being bullied, and parents need to have an eye on their child's social media. Therefore, SpyBubble's social media monitoring offers the best part.

Let's get an insight into some pros and cons of this application.
Pros
·Unique features.

·No lags experienced.

·Accurate tracking.

· User-friendly dashboard.
Cons
·No call recording.

·No geo-fencing.
5. One'sSpy
One'sSpy is one of the ultimate solutions with a wide range of amazing features that can ever be imagined in any tracking app. While we talk about its usage, it can be used by anyone who wants to keep an eye on anyone's mobile phone. Moreover, One'sSpy is best compatible with all the Android and smart target devices.

Like any other monitoring app, One'sSpy offers some great features and benefits to its users. However, so many features cannot be listed once, but we have mentioned some highlighted features in this reader's guidance.

Let's dive into these amazing features.
Real-Time Screen Monitoring
Real-time screen monitoring is the best feature offered by this application. Parents or any person can use this feature to detect the on-screen activities of their targeted device. It seems pretty great to save your child from any harmful activity.
Bugging
This feature is incredible and is only offered by the One'sSpy app. This unique feature helps you control both the front and back cameras remotely. It also records the conversations secretly and helps you track your targeted device.
Password Chaser
Well, not only bugs, but password chaser is also a great feature to be mentioned. Password chaser helps you detect the targeted device screen lock and track the personal passwords to unlock the phone without knowing the person.
Capture Screenshot
From the list, only One'sSpy offers to capture screenshot facilities to their users. You can simply capture the screenshot of the targeted device remotely without letting them suspect you.

Besides being such an impressive app, there are some pros and cons to it:
Pros
·Supports multiple multimedia formats.

·Amazing range of features.

·Monitor social media as well.

·Live streaming available.
Cons
·Do not support multiple devices with one subscription.

·Might require root.
Conclusion
Summarizing it up! Mentioned above are some of the top Whatsapp tracking App for iOS and Android operating systems. However, every app offers its unique features, which we have discussed in our review. Selecting an appropriate app according to your requirement will help you achieve the target information without any hassle.

Hopefully, after reading the whole article, you will be able to make a decision. So, if you are planning to pay for any of these tracking apps, don't forget to check their pros and cons. Moreover, we would love to know more about your experience with any of the apps mentioned above.

Read more
Try iSeeGuard Now to Monitor WhatsApp Remotely!