Instagram Tracking App
iSeeGuard Safe and Discrete Android/iOS Monitoring
Instagram Monitoring
Gain access and monitor Kid's Instagram.
iSeeGuard allows you to monitor someone's Instagram use.
Read every sent or received message.
Keep track of their followers.
Save photos and videos they posted on Instagram.
How To Start Tracking Someone's Instagram?
Sign up for free
Create a free account using your email.
Set up iSeeGuard
Follow easy instructions to install ISeeGuard.
Start Tracking Instagram
Start monitoring someone's Instagram activity.
Why Should You Monitor Someone's Instagram?
ISeeGuard can quickly give you answers to questions and doubts that bother you in family, emotional, or business relationships. And as Instagram has become one of the world's most used social networks, a large amount of information is transmitted via Instagram. Therefore, it is the safest way to find out what someone is doing, what they are posting, and who they are communicating with.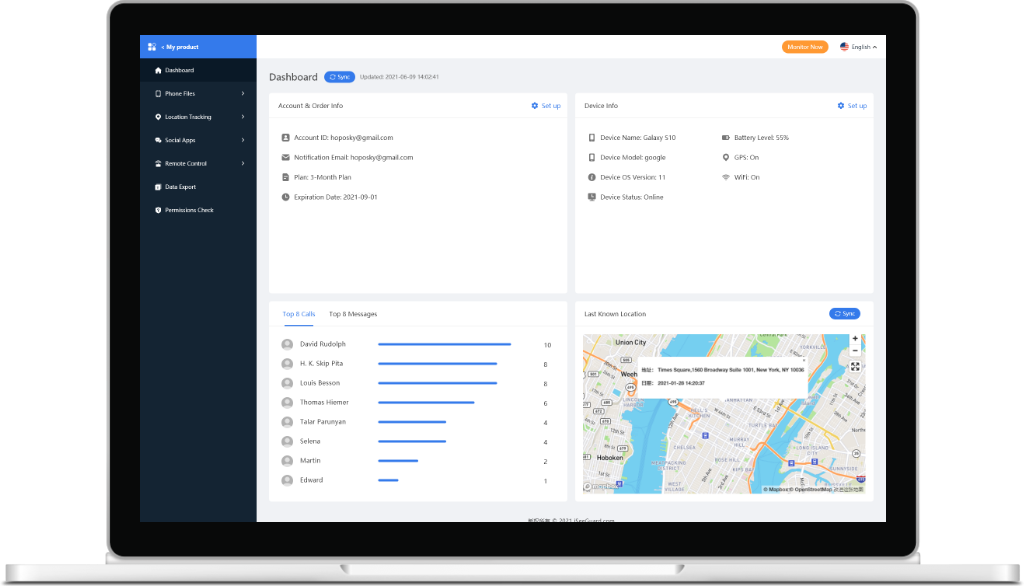 Monitor Someone's Instagram Activities in Secret
When you track someone's Instagram privately, no one should know you are doing it. Thus, when you use our app to access a target Instagram account, it guarantees that your tracking activities will never be discovered.
This is achieved by using an incognito mode to remain hidden while collecting information. Afterward, you will get the details of the Instagram account in a remote account of your own that you can access online. From there, you will be able to see all the messages, images, and other notes.
You can also see who was involved in the conversation and when it took place. The keylogger reveals more details about their account to you.
You only need an Internet connection, since your account dashboard works with all browsers. No information obtained is stored in the app cloud. Instead, the app only syncs the information when you log into your account. Therefore, if someone hacked your account, they wouldn't find anything. You will only need to follow a few steps to be able to track a private Instagram account.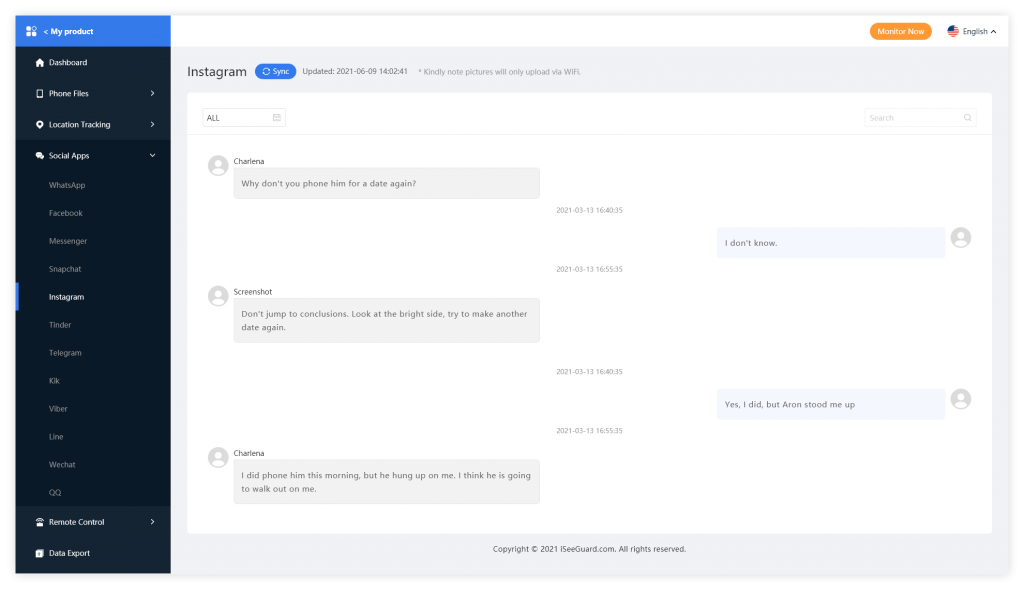 Take Care of Your Children Safety
The Instagram tracking app can help you keep track of what your child is doing and who they are hanging out with, seeing, and messaging. This way you can prevent many unpleasant and unwanted situations. Children are not aware enough that Instagram is used by various perverts and other bad people that can make them feel insecure. So take matters into your own hands and check the safety of your children.
Check Your Partner's Instagram
You will remove the doubts that bother you. By using this application to track your partner's Instagram activities, you can find out absolutely everything that interests you. You can see everything that is happening on the device you are monitoring on your mobile device, in the current events if you want. You will have an insight into all the photos, videos, and messages that your partner exchanges with other people.
ISeeGuard Works Without Root or Jailbreak
Our application works on the Android mobile platform without the need for rooting or jailbreak. You can view updates from anywhere by simply logging into your account online. Unfortunately, tracking Instagram on the iOS platform has been discontinue
Monitor Instagram in Secrecy
Instagram will no longer be private if you use our app for your purpose. It's very easy to install and use. When you combine that with its stealth mode operation, your tracking actions will go unnoticed throughout the entire process.

iSeeGuard Instagram tracker helped me detect two employees with inappropriate activities sharing the company's secret files and took the action on time. It's of really big help indeed.
– Howard, US

I feel lucky to have bought iSeeGuard since I have used five tracking apps, but no one is like the iSeeGuard Instagram tracker. It has great features to monitor my children's Instagram activities like reading every sent and received message, save photos and videos posted, and capture screenshots.
– Charlee, Germany
Top 5 Instagram Tracking Apps
Are you worried about what your kids are doing on Instagram or what your spouse keeps scrolling through all day over Instagram?
It is justified to be unsure that your kids are accessing the right kind of content because of social media. So there needs to be some check-and-balance to stop that from happening.
What's the solution to these issues? An Instagram tracking app. These apps can trace all of the data of family, friends and employees alike. Let's have a look at the best Instagram tracking apps having distinct features!
1. Flexispy
Flexispy is an Instagram tracker that can be used on both iPhone and Android. It can record, stealthily, entire conversations and pictures, videos and audio messages.
Child Security Guaranteed
You don't need to be concerned any more after getting Flexispy because this Instagram tracker also has a keylogger that will notify you if your child is using any specific words.
Remote-Device Locking
In case you feel that your spouse is wasting way too much time on IG, well don't worry. A lot is possible with this tracking app. Just save their phones as a target phone and then lock them out of IG.
Uninstall Malware From Other Devices
Fearful that your kids are using the totally wrong type of apps? Well now with Flexispy, you can simply delete those apps from their devices, remotely, whenever you feel that something isn't right.
PC And Mac Monitoring
In case your co-workers are slacking off on work on the office PCs/Macs. You can monitor their Instagram activity on them too by Flexispy. This ensures that their work quality doesn't deteriorate.
Pros
Records all communication, including calls.
Comes in three price plans.
Can monitor apps like WhatsApp too.
Cons
Numbers can't be blocked.
Websites, too, cannot be blocked.
2. Spyzie
Spyzie is another great free Instagram tracking app. It is best to be planted as a tracking app in your kids' phones. It also comes in three price plans.
Recover Deleted Messages
This is, undoubtedly, the best feature of this app. If your children are deleting their Instagram direct messages and other media. You can simply recover it in your phone by downloading all of those messages again.
Location Tracking
Through this free app, you can track Instagram, and can even track each and every location your children have frequented. Other than that, it can also tell the exact address, time and GPS coordinates they have been to.
GeoFence Alert System
Yet another awesome feature of this monitoring app is that you can set safe and prohibited zones in it. As soon as your kids move into a prohibited zone, the app will notify you. You would still be able to track your target(s) meanwhile.
Stealth Mode
This feature should remain on at all times. Especially for Instagram monitoring. It makes sure that your children don't know that you're tracking on them.
Pros
Requires no rooting or jailbreak.
Tracks all types of photos and videos.
Keep a check on Instagram activity, especially Instagram direct.
Tracks SIM location as well.
Cons
Prices for iPhone users are higher.
iCloud access revocation can uninstall the app.
3. Hoverwatch
Yet another contender for the title of "best Instagram tracker" is Hoverwatch. You might think that there are only three features in this app. Reports, locations, and calendar. But just read on to find out the real deal that Hoverwatch has!
Access To Contacts
If there's one thing that Hoverwatch does best, it's the access it gets you from contacts of the target phone. With this app, you can see all the contacts in the SIM, in WhatsApp, Google and in the Phone itself.
GPS Tracking
Worried that your kids might lose their phones. Well with this app, forget that concern! This app also has GPS coordinates embedded within. So, if your kid has lost his/her phone, this feature can come in handy.
SIM Change
Hoverwatch will notify you immediately that someone is trying to change the SIM of your child's phone. This is yet another great feature in case your child has lost his/her phone. GPS will immediately pick the location up where the SIM was changed.
Calendar Mode
Lastly, the calendar mode notifies you if your kid has any plans of doing something suspicious. The calendar option can also be seen on the dashboard for quick reference.
Pros
Gets easy access to photos and videos.
Can be used for employee and parental control.
Monitor 25 devices with the business plan.
Hide the icon to avoid detection.
Cons
Can give false alarms of SIM change.
Layout isn't that great.
4. mSpy
Need a dedicated Instagram dm tracker? Allow us to introduce mSpy. Apart from the usual features of saving social media data, it's also fairly responsive.
iPhone Detection
The app cannot at all be detected on iPhones because you are using the details of iCloud. This way there is 0% chance that the app is discovered by your target.
SMS Can Be Monitored
Every single SMS that the target phone, whether receives or sends, will be logged. In this way, you will have all the details with you, whether the target is an employee, or your children.
Choose Which Information Do You Need?
Naturally, if you request for every single bit of information from the tracking app, it will be a bit risky. The target device will start to lose battery at a faster rate. Therefore, you have the options available to choose which information to request, and which to leave.
Email Tracker
No employer likes it when their employees start receiving mail from their rivals. So, in order to prevent that from happening on company iPhone and Android devices, here's a nice solution. Track their emails. The details are easily logged and can be viewed from the dashboard.

Just like with calls and SMS, you can download all of the data even after it has been erased completely from the target phone.
Pros
Easily track Instagram from your target.
Takes less than 10 minutes to install. (24/7 guaranteed customer support)
New information comes every 5 minutes.
Doesn't need jailbreaking or rooting.
Cons
Only one device can be run on one account.
Some filtered records are hard to access.
5. KidsGuard Pro
Accessing Instagram direct messages was never an easy task, especially if the account was on your kid's phone. But with KIdsGuard Pro, that seems to be a rather by-gone concern.
Recover Vanishing Messages
WhatsApp and Instagram messages can be vanished too. What that means is that they will expire after viewing once. Saving such messages can be tricky. But KidsGuard Pro saves them, without any hassle.
Top 8 Calls and Messages
The dashboard has this unique and nifty feature that tells you of the 8 most-recent calls and messages that your kids might be making. You can recover calls even from 2019.
Browser's History
You can get access to all of the sites that have been frequented by your kids. This information can be downloaded for later use too.
Video Tracking
It's very easy to target both photos and videos with KidsGuard Pro. You can preview videos that might have malicious content. As teens are very likely to be driven by emotional propaganda, this feature might help you every now and then.
Pros
Call records are updated every 10 minutes.
Recently-added contacts can be viewed in just 10 minutes.
Browser history is updated in mere seconds.
Deleted browser history can also be tracked.
Cons
You cannot track Instagram messages on your iPhone.
Can't sort calls based on duration.
Conclusion
All of these apps surely have their ups and downs, but they all have one main purpose. To track not just an Instagram account, but also on messages, mails, calls, WhatsApp, Facebook and Gmail.

Some of them work on PC, some don't. Some are expensive, some aren't. Some are geared towards children, some towards office employees. But they all do serve their real purpose well. Now all you have to do is to choose the one just according to your concern!

Read more