Viber Parental Control
Read your kid's Viber messages without accessing his or her phones.
Tracking Viber
Track and find out the kid's Viber activity.
Find out how they use their Viber.
Read all Viber messages.
Maintain track of their detected messages.
You'll be able to see every shared media file.
Find out information, such as contact details, profile pictures, and numbers.
How To Start Monitoring Viber?
Sign up for free
Create a free account using your email.
Set up iSeeGuard
Follow easy instructions to install ISeeGuard.
Monitoring On Viber
Start tracking Viber activity.
Why Should You Monitor Viber?
Viber tracking gives you a complete and discreet insight into everything your children, emotional partner, or employees are doing on the phone. In this way, you can protect your children from many inconveniences, prevent confidential business information from falling into the hands of the competition, or remove doubts about your partner's fidelity.
ISeeGuard for tracking the latest generation of mobile phones will help you remove all doubts and worries and, of course, remain undetected.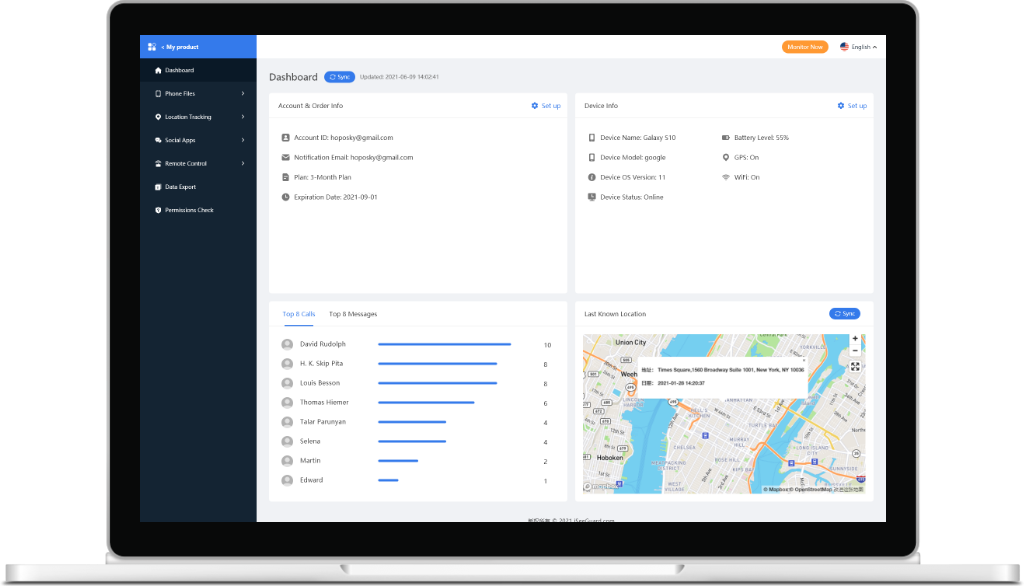 How to track someone's Viber?
Our Viber tracking app enables insight into Viber conversations, shared media files, and much other useful information.
All you need is to have the target phone with you for a few minutes, as long as the installation of the phone app takes. After installation, the app disappears from the phone menu, the user doesn't see it and in no way affects the operation of the phone.
After installing our application, you can find the Viber tracking option in the dashboard where you can monitor someone's Viber profile in secret and remotely.
Use Without Root
iSeeGuard is made so you can access someone's Viber without having to root or jailbreak the device. You won't have to make changes to anyone's device and disrupt the entire operating system. The installation process is simple and precisely done.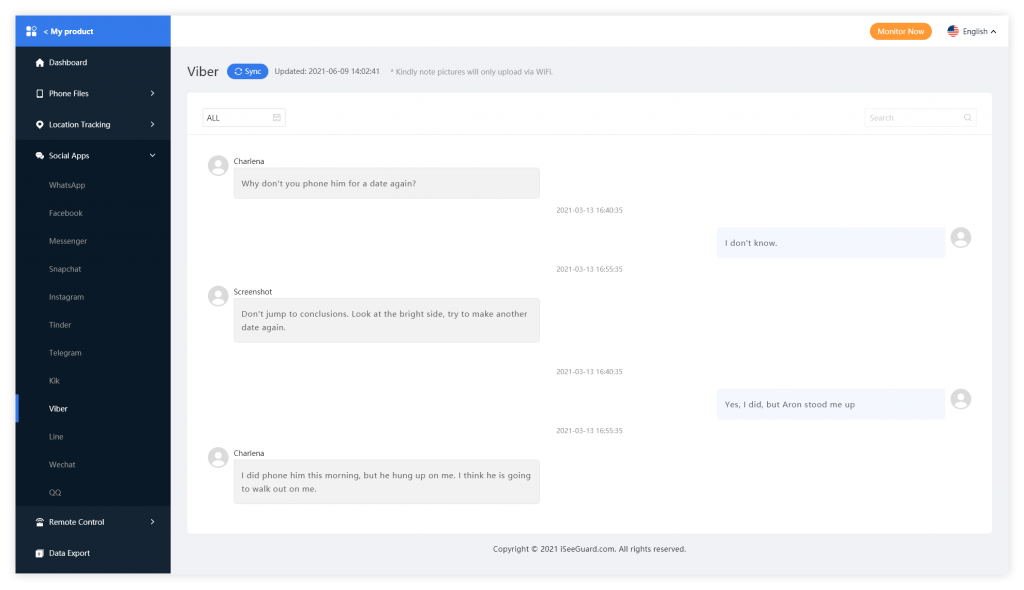 Monitoring Viber in Secrecy
This app is compatible with all Android and iOS phone models. It's made so that it leaves no trace during installation and use. It takes up little space on the phone and doesn't disturb or slow down its operation, doesn't consume credit or battery. Although teenagers are real cheats on mobile phones, the phone tracking program is 100% invisible and I can't notice it.


iSeeGuard helped me to arrest a man who sent my 12-year-old daughter inappropriate Viber messages and disgusting photos. He was trying to lure her into meeting him with cash and running away. I do not know what would have happened if I hadn't found out on time.
– Mckenzie, Australia


I installed iSeeGuard on my children's phones. The app allows me to monitor their Viber activities and other social media activities, track their location, and much more. I am always informed about their digital activities. iSeeGuard is really a lifesaver to me!!
– Dylan, US
Top 10 Viber Tracking Apps – Track Remotely on iPhone and Android
You have sensed some suspicious activities and think it's better to track their Viber before confronting them. Or are you here because you are worried about your teenage kid's internet activities?
If you want to track Viber messages without target phones knowing and check whom they are communicating with, you are at the right place.
After thorough research, we have prepared a list of 10 top Viber tracking apps. The apps we selected are highly efficient and are compatible with Android and iOS devices. Let's see what can be fit for you.
1. Track Viber Remotely By mSpy
 If you are searching for a Viber tracking app that enables you to remotely control all activities on the target phone, mSpy is your best option. It has many cool features.

Media files

See all pictures and videos shared on Viber and other apps, including the deleted ones.

Messages

Track Viber messages without target phone knowing with timestamp and contact details. Even get the deleted messages.

Disconnect Wifi

You can control the wifi settings and all connections on your kid's mobile and could turn them on or off.

Screen Recorder

Track Viber remotely along with the other apps. Every time your spouse or employee opens any social app, a screen recorder will take screenshots and deliver them to you.

Pros
Provides robust tracking solution.
Work in hidden mode.
Geo-fencing is available.
Easy and quick setup.
Cons
No tracking Viber without rooting.
2. SpyFone- Best Viber Spy App For iPhone
SpyFone is the cheapest phone tracking apps in the market. It has multiple features and is the best choice for all iOS devices.

Call

All the basic details about the incoming and outgoing calls, duration, and timestamps are provided. If you want to listen to any call, just press the Play button.

Contacts

Not only can you see but delete any contact remotely if you don't want your kid or partner to call them again. You will get a notification if any new contact is saved.

SD Card

Every image, video, or documents saved on an SD card can be downloaded without wires on your device.

Location and Geo-Fencing

SpyFone allows you to draw the location path. Set the boundaries and get an alert if anyone breaks these boundaries.

Pros
Send voice alerts on the target device.
Let you break the phone lock.
Open any stored app remotely.
Activate or deactivate Wifi or hotspot remotely.
Cons
Web history lacks functionality.
3. Hoverwatch
Hoverwatch is among the top Viber tracking apps available in the market. Let you keep a watchful eye on unfaithful partners' internet activities.

Back up

Get the backup for all the internet history, Viber contacts, and other information using apps Cloud storage.

Calendar

Hoverwatch enables you to see the calendar and all the important activities that are marked there.

Sim Card change

Get a notification if your spouse or kid tries to change their sim card.

Screenshot

The best option of HoverWatch is that it takes a screenshot anytime the target device turns on.

Pros
It can be used on multiple devices.
Access the camera remotely.
Changing monitoring settings is easy.
Cons
Jailbreaking is required for more features.
4. uMobix-The best Viber Location Tracking App
uMobix is one of the best Viber location tracking apps. You don't have to be on edge if your partner is lying about their location or the employee is not where they are supposed to be. Tracking is easy with uMObix.

GPS Location

You can monitor the present and previous location of your kid with a GPS locator. Google Map support makes it easy to use.

Read all the sent, received, and deleted messages on Viber, FaceBook, Instagram, and many other apps.

Messages

Get the screenshots of all messages, including deleted ones, with a timestamp and contact details.

uMobix shows all the keystrokes which allow you to see passwords.

Pros
Sort messages and calls according to time and date.
Track the photos transferred through Bluetooth.
Two years of history can be recovered.
Cons
Social apps update is slow.
5. KidsGuardpro
For Viber tracking and other social media apps tracking, KidsGuardPro is an ideal choice. Kids' safety is a huge responsibility and to fulfil it, tracking kids' devices with KidsGueardpro is not a bad idea.

Screenshots

Whenever the target person uses Viber, you can take as many screenshots that will be delivered every few seconds.

Media Files

The photos and videos are stored on the phone and a memory card. KidsGuardpro has access to all of them.

Data Export

From calls to messages and browsing history to social apps, featured everything by using the Data Export feature on your device.

Pros
Recorded calls are updated within 10 minutes
Works in stealth mode.
No rooting or jailbreaking is required.
Cons
In the call recording, the second person's voice is not clear.
6. EvaSpy
Finding a good free Viber tracking app is difficult. However, EvaSpy will make your life easier as it can monitor 50 applications for you to keep your kids safe.

Remote Monitoring

Check the recorded data remotely on a dashboard and see the activities your kid or lover is indulging in.

See all the received and sent messages, Viber nicknames, and any logs in activities on the target device.

Blocking Access

Remotely block any unwanted app and protect your child from harmful material.

Gallery

You can see all the media files in the phone gallery. Any deleted or shared file is also visible.

Pros
View data from any device.
Works in hidden mode.
No rooting is required.
Cons
No free trial is available.
7. pcTattletale
If your kid is getting addicted to using Viber, you need to set some rules. However, before that, you should know how much time they spend on these apps. Let pcTalletale help you.

Keep one thing in mind that it is a great app for Android and windows tracking. But If you are finding the Viber Tracking app for iPhone, pcTattletale is not for you.  

Live Viewing

You will see everything happening on the target mobile live through this feature. Everything the target user sees, on their device, you see with them.

Location

Besides the current and previous location updates, you can switch from maps to satellite mode and get a better view.

Click activity

Want to know how much your kid or employee is addicted to the phone. Click activity will record how many times they click in one hour and provide data in graph form.

Pros
Live video tracking available.
Easy to set up and use.
Target users can't delete it from their devices.
Cons
Doesn't monitor incognito mode.
8. ikeyMonitor
Finding a free Viber tracking app that works well is hard. However, IKeyMonitor offers a free plan for tracking on other devices.  

iKeyMonitor allows you to obtain all the data from most social apps like Viber, Instagram, WhatsApp, and many others.

GPS location

See your partner's current location through Viber location tracking, who might be lying about their whereabouts, or use Pegman to explore the area further.

Clipboard feature

iKeyMonitor's clipboard feature will show everything your child copy and paste.

Pros
Access most features without rooting.
Take and deliver screenshots remotely.
50% discount on a yearly purchase.
Cons
Lengthy process for Android setup.
9. Viber Spying Become Easy With FlexiSpy
FelxiSpy is another amazing Vibers tracking app. It has some unique features that make tracking easy for you.

Contacts

Not only is the contact list visible, but you can also see all the messages and emails received and sent on that number.

Remcam

You can't just rely on calls and messages when the love of your life is deceiving you. Take live pictures and videos of their surroundings to monitor them better.

Ambient Recording

Listen to live surrounding audios or put a timer for later recording to know what and how they talk behind your back.

Alerts

Compared to other apps FlexiSpy alert feature has three options; Caller id, location, and keyword alerts.

Pros
Easy to install and use.
Good video and audio quality.
Compatible with all android devices.
Cons
Expensive compared to other options.
10. SpyMyFone
SpyMyfone is a great Viber tracking app for android devices. You can keep track of your worker's and spouse's activities. You can use its web version to monitor your kids from anywhere.

All the messages exchanged on Viber or any other application are recorded and saved in SpyMyFone.

Remote Control

You can control many features on the target device remotely, like lock the mobile after a particular time.

Emails

A great feature to keep your company data safe and avoid any financial loss is email tracking featurre.

Pros
Real-time Geo-location.
Works in stealth mode.
No rooting is required.
Cons
No free trial is available.
Conclusion
In this digital world where the use of electronic devices has become inevitable, keeping your loved ones safe and secure is harder than ever before. These tracking apps will help you achieve your goals. You can track Viber or any other social app with the help of these apps.

Read more
Try iSeeGuard Now to Monitor Viber Remotely!