Android Monitoring App
The Best Android Monitoring App to Keep an Eye on Loved Ones
• View the social media activity in apps such as Facebook, WhatsApp, and Instagram.
• Observe changes in GPS location, SIM card information, call logs, contacts, texts, and more.
• Once installed, it is completely undetectable by the person you are monitoring.
• Get started within 5 minutes!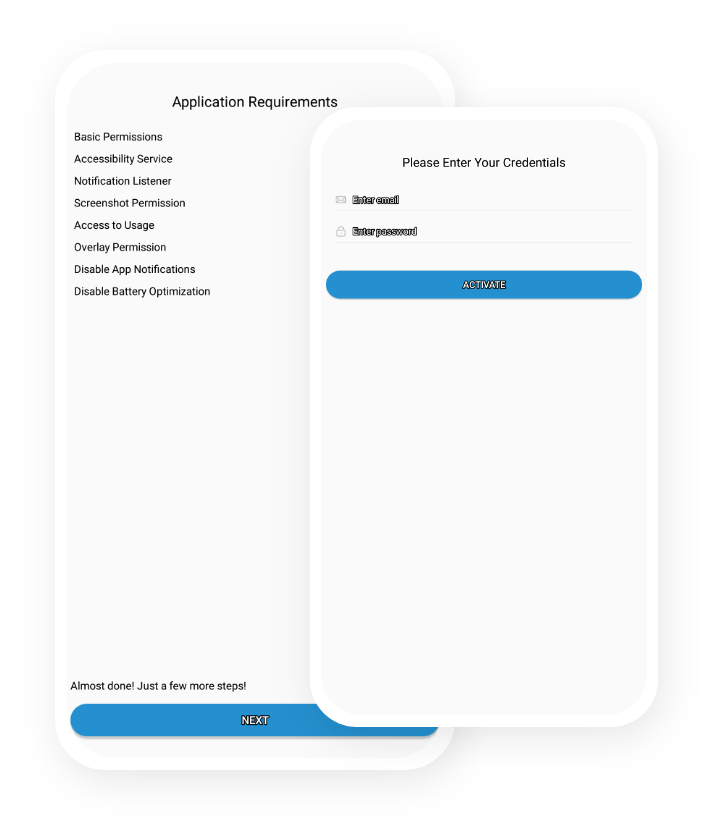 Android Monitoring Features
Location
Locating iPhone and tablet, reviewing your location history.
SMS Reader
Read all incoming and outgoing text messages and get information about things like email addresses, names, etc.
Track Calls
Find out everything about every call which goes through that device.
Geofence
Create a virtual perimeter that when your child leaves it, you get notified.
Keylogger
By activating the keylogger, you will track your child's details (usernames, passwords) through keystrokes.
Media Files
The option of seeing and downloading every media file on your child's device.
Snapchat
Keep track of what is happening on their Snapchat and see messages at any time.
Browser History
Protect your children by monitoring their browser history.
Start Monitoring in 3 Easy Steps
Sign up for free
Create a free account using your email.
Install iSeeGuard
Follow the installation guide to install iSeeGuard on the target device.
Start Monitoring
Log in the iSeeGuard control panel to start monitoring.
Protect Your Family With iSeeGuard
Monitor Your Family
By using iSeeGuard, you can monitor your children/family when you're not around them. Any dangers that they may face online, like in real life, in terms of sexual offenders, thugs, and bad people in general, can track them without them knowing and come to help on time if needed.
In addition to online activity monitoring, iSeeGuard can also keep track of your children's movements in near-real-time. If they're not getting to school on time or are skipping it entirely to hang out with their friends, you will know by tracking them. The geofence feature gives you alerts if your child enters a geographical area you deem restricted for them.
Follow Your Workers Activity
Want to know what your employees really think about working for you? ISeeGuard they happy or not? iSeeGuard is very useful in letting you know what is going on in your workforce behind your back. Follow them using their company phones which have our app installed.
Is there an employee you suspect of stealing company secrets or working to pass information to a competitor? You can keep tabs on their phone or tablet use with iSeeGuard. If they are indeed passing on confidential information, then you can use their phone or table to catch them in the act and confront them with evidence.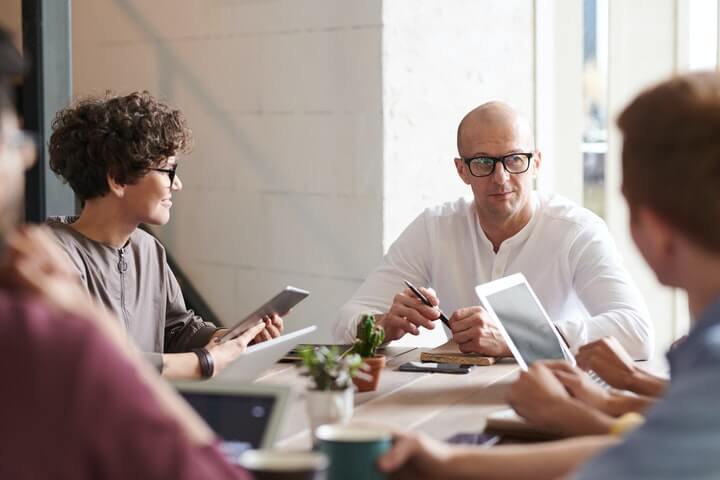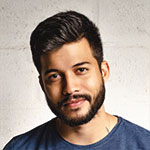 I am very satisfied with the iSeeGuard software service. I must say this application is great.
I didn't know there was such a product until a friend told me. I use this software to track my employees' phones to make sure they only use our company's phones for business purposes. And I can also access text messages and phone calls, as well as check their chat records.
This software has greatly helped me to improve my work efficiency.
– Jamal, US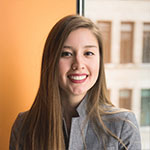 The software is stable and reliable and has many functions to keep my kid safe online.
Through the GPS feature, I can know the location of my kid at any time, which is the most important function for me. The app seems to be more effective than most parental controls.
– Stacey
Top 5 Best Spy Apps for Android Users
Today every child has a smartphone, and they use this device to connect with their friends, find new information, download apps, watch videos, and more. But since a smartphone can provide kids with easy access to information, it also means that they can find all kinds of information on their smartphones. This concerns the parents because they don't know what their kids are doing using a smartphone.
Are they using it for ethical reasons, or are they involved in activities that are a matter of concern? The internet, for example, is loaded with adult content. From adult sites to adult games, from gambling sites to dating sites, the internet can be a dangerous place for kids who don't understand the repercussions of using it without giving it a second thought. Also, you can't forget about the abundance of game applications that kids can download from the Play Store.
Think about it for a second; probably they are using their smartphone at night when they should sleep and playing games all night? Moreover, kids may also use social media applications. What if they are the target of cyberbullying, and that's why they often check their mobile? Yes, things like these can happen, which is why one should find solutions to monitor such behaviors. To help you with that, we have gathered five excellent Android spy apps that you can try.
Five Android Spying Apps
A spy app for Android can help parents monitor their child's internet behavior, or to be precise, Android phone's behavior. Since there are many Android spying apps, one should choose the best Android spy app since not every Android spying app is made equal. One should look for the best spy app for Android without accessing the target phone.

These phone spying apps are designed in such a way that they can easily hide in the target device phone and start monitoring it without letting the person know. The only thing you will have to think about is whether you want a free spy app for Android or if an app is paid, how much can you afford. Now, let's begin our list.

KidsGuard Pro

Price: 1-month: $29.95 | 3-month: $49.95 | 1-year: $99.95

The first and one of the best Android spy apps that parents can consider is KidsGuard Pro. KidsGuard Pro is a fantastic phone spying app loaded with features that enable one to monitor an Android phone conveniently. In addition, it lets you gain remote access to the phone, which is why you don't need to worry about keeping the phone close to you when you monitor.

Key Features
KidsGuard Pro lets you check where the target person is. It enables you to view location history, track GPS location, and also set up a geofence.
If you want to know about incoming and outgoing calls, KidsGuard Pro will let you do that, along with message tracking. You can check exchanged text messages too.
Your kids may change the contact name of a particular person. The contacts feature will show you all the numbers saved in the target device.
If you want to know what your kid is checking online, you have the browser history.
It shows calendar, keylogger, multimedia files of all kinds, and more. You can check saved applications as well.
FlexiSPY

Price: Lite: $29.95/Month | Premium: $68/Month | Extreme: $199 for three months

Another powerful spying app for Android that one can try is FlexiSPY. Once the app is downloaded, monitoring the target device becomes easy. Furthermore, monitoring happens in stealth mode, which means that that the target person won't come to know that someone is tracking their phone's activities. The website provides you with a demo video, which explains how the Android spying app works.

Key Features
One can use FlexiSPY to check incoming and outgoing calls and messages.
The tool provides you with real-time location data. If need be, one can use the geofencing function as well.
The ambient recording feature is fantastic, allowing you to record the surroundings of the target device.
You can check all the messages received and sent along with multimedia files on different instant messaging apps.
The app block function lets you block unwanted or malicious apps.
Price: Free | Business: $9.9/device with add-ons

Third, we have iKeyMonitor, a popular Android phone monitoring app. This tool is equipped with every phone monitoring feature that one needs. The list of features is vast, and one doesn't need any technical knowledge to start using it. Moreover, all the advanced monitoring features can be used without jailbreaking the device, making iKeyMonitor an excellent Android phone monitoring app.

Key Features
You can check incoming and outgoing text messages of the target device along with call logs. You will find the contact details of each number.
You can monitor WhatsApp messages and see exchanged multimedia files.
If one wants, they can take screenshots of the Android phone, such as chat apps, videos, photos, websites, etc.
You can block apps using iKeyMonitor. Along with that, you can also check the apps saved on the target device.
One can record the surroundings and find the details in the dashboard.
Price: Basic: $4.17/month | Extreme: $12.50/month | Premium: $8.33/month

If you are looking for an easy-to-use Android phone monitoring spying app, you will like using Spyfone. This robust Android phone spying app works without fail and doesn't need jailbreaking of the Android device. Yes, you will need physical access to the target device, but only for a few minutes. Also, it has more than 5 million users.

Key Features
It lets you view contact and see whose number the target person has saved.
It lets you see the GPS location of the target device in real-time. The Geofence feature is also there.
It has a panic button feature, which is a lost phone feature to track where the Android device is.
The web history feature lets you check which websites the target person has visited and block websites you think are harmful.
You can check all the apps saved on the device, along with app usage details.
Price: 1-month: $48.99 | 1-year: $99.99

The last Android phone spying application that we have is mSpy. The tool works in a hassle-free manner and lets you check call logs, messages, apps, and much more. Moreover, it also gives you real-time GPS location detail of the target device. If you need any help with the installation process, you can take a look at the demo. The tool has more than a million users.

Key Features
One can record the target device's screen by using the screen recorder feature.
MSpy lets you check WhatsApp messages, Facebook Messenger chats, and other social media messaging applications.
Call monitoring lets you see call logs, duration, timestamps, incoming and outgoing calls, and more.
You can also see incoming and outgoing text messages.
The tool lets you check multimedia files, track GPS location, create geofence alerts, view apps and block them, and much more.
Conclusion
These are the best android spy apps that parents can go for. Since you can't be sure what your child is doing using their phones and because the internet can turn out to be dangerous for children if they fail to use it properly, use the best spy app for Android and monitor their moves. Also, teach them about the dangers of using the internet so that they can use it ethically.

Read more