Browsing History Tracker
View your children's browser history without them knowing.
Monitor Search History
Gain access and monitor someone's Browser History.
iSeeGuard allows you to monitor someone's Browser search history.
Find out which websites they visited.
Keep track of site descriptions in one line.
Get many other useful details, such as visit frequency.
How To Start Tracking Someone's Search History?
Sign up for free
Create a free account using your email.
Set up iSeeGuard
Follow easy instructions to install ISeeGuard.
Start Tracking Browser History
Start monitoring someone's Internet search activity.
Use ISeeGuard without Root and Jailbreak
With ISeeGuard, you can monitor Android and iOS devices without rooting and jailbreak. The app can be easily installed in just a few steps. Root and jailbreak can expose the device to various problems and lead to loss of warranty.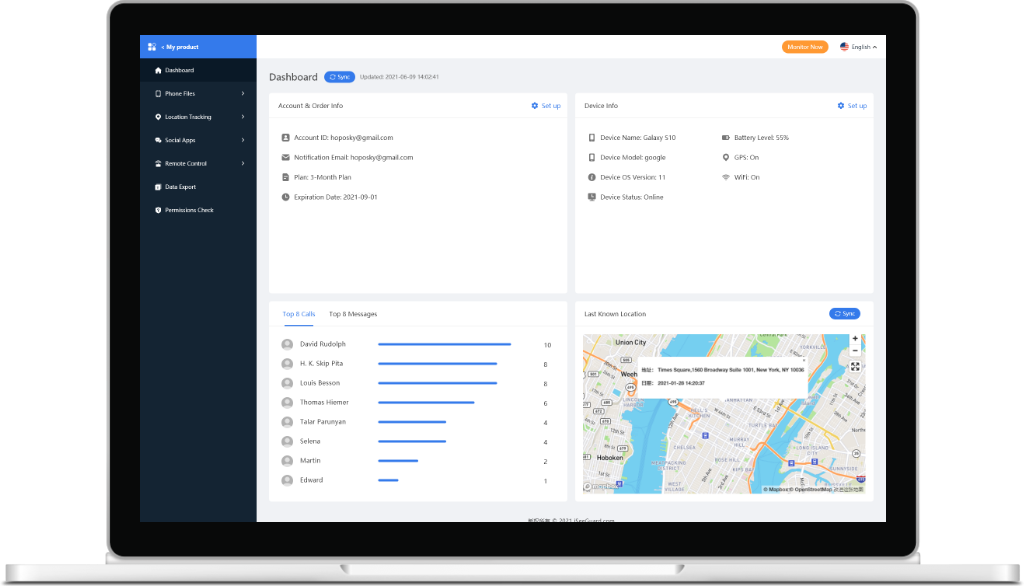 Monitor someone's Browser History in Secret
If you install our app you will be able to monitor someone's internet history in stealth mode. You can use the app remotely from your web browser and track someone's searches or online activities in real-time. The app works remotely, and on any target device.
How can you monitor your web history? Simply sign up for the dashboard after installing the app, where you can easily find the View Search History option. And then you get an insight into their internet browsing history on the Internet.
You will get access to some more options including location names, URLs, frequency of visits, bookmarks, access date, and check-out time. Refreshing the window gives you new information about their internet history. You can also gain insight into deleted history private web browsing search pages.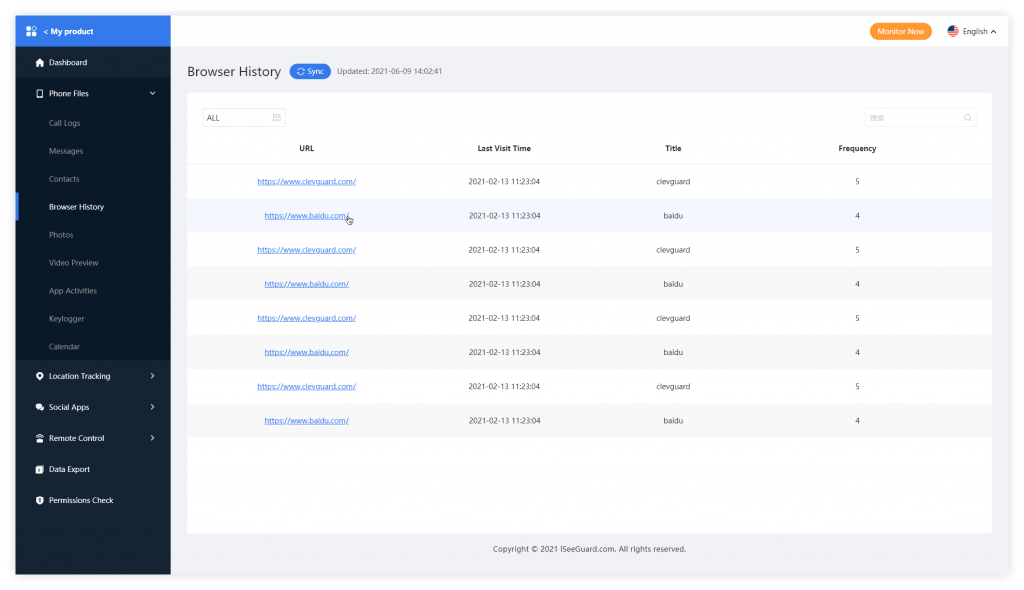 Why should you check someone's Search History?
Reading someone's internet browsing history is necessary for some situations. This way you learn a lot more about the user, in case he hides something from you or deceives you. Use our app to view its search history to resolve any doubts you may have and draw the right conclusions.
If you have difficulties in your emotional relationship with your partner and doubt his fidelity, an insight into his search history may reveal the truth about them. They may search for some things that indicate that they are cheating on you, such as dating sites. If this turns out to be true, then you will know for sure that your partner no longer cares about your relationship.
On the other hand, parents can monitor the content searched by their children in this way. Use it to protect him from a bunch of inappropriate content on the Internet, and find out if he visits such sites. Your child will never find out that you are monitoring him because the app works in complete secrecy.
iSeeGuard allows you to view someone's web history remotely. It's easy to install and almost impossible to detect. The app works on iOS devices and Android mobile platforms.
App Works in Secret
One of the best features of the app is that it works in complete secrecy. You don't have to be afraid that the device user will find out that you are monitoring. As for the Android version, it runs in the background, while the iOS version is based on the web.

As a busy parent, I do not have enough time to check what my children do online. I have installed iSeeGuard on their phone to keep a track of it. It sends me alerts when they visit websites that contain violence, porn, gambling, etc.
– Mortimer, US


I have installed iSeeGaurd on the desktops of my employees to check their browsing history and found that many visit non-work-related websites or play online games. I have warned them about this, so they do not waste time and focus on work.
– Delaney, US
The 5 Best History Trackers to Track Browser History
Are you a parent who wants to ensure that your child is using the internet constructively? Or are you a person who has been doing research and wants to keep track of it but are unable to do so? Do not feel stressed because we are here to help you out.
Keeping track of children's online activity has become the need of today's parents because there are a lot of immoral acts happening, and cybercrimes and cyberbullying have increased. To keep the children safe it is essential for parents to know what they are doing and to whom they are talking.
If you search history trackers you will find various options. But here, we have provided you with the best history trackers in the market. Bear with us till the end of this article and choose the best one for you.
1. Wispy – Ideal internet history tracker
WiSpy is one of the best and highly recognized internet history tracker apps worldwide. It is not just track but also a parental control app, allowing parents to access the browsing history of their teens' smartphones and PCs. TheWiSpy even enables you to view browsing history that has been already deleted.

The app got a lot of unique features, such as;
App Monitoring
The WiSpy has an outstanding app monitoring feature that allows you to view the online activity of children and restrict the usage of shady apps to keep them safe and secure.
Text Message Tracking
The text message tracking feature of WiSpy gives you access to the text messages your child sent and received. Moreover, it allows you to track who has sent the messages or to whom the messages have been sent.
Remote Screenshot Capturing
The app's remote screenshot capturing feature captures the screenshots of your child's

activities and send them to you.
GPS Tracking
Along with keeping history track, the app also provides you a GPS Tracking feature to check your child's real-time location and even know the history of the places they have been.
Pros
Quick and easy to use
Advanced features at affordable rates
Restrict all inappropriate sites
Cons
2. KDT Web History Tracker- Best Software to view browsing history
KDT Web History Software is an excellent software to track the web history of your child or employee in your office. It views the browsing history and lets you keep your network and your child safe.

Some of the notable features of KDT Web History Software are;
Runs quietly in the background
KDT web history browser has the incredible feature of running quietly in the background without the person noticing it. This feature does not let your child know you are keeping a watch on him, and you'll have the idea of every step they have taken.
Deal with deleted internet cookies and cache
If you need some deleted data that is important to you. You can even get access to deleted internet cookies and cache by using KDT Web History Tracker. It is very useful for gaining lost data.
Deliver log file data
The KDT Web History Tracker can record all the events happening in the system and then deliver the log data file to the user. So, you can have a clear idea of what is happening because of the log data delivery feature.
Monitors activity
You can monitor the activity of every person who has used your computer. This feature also allows you to monitor your child's online activities.
Pros
It starts working automatically
Free of cost
Compatible with all systems running Windows
Cons
Not compatible with Android and iOS
3. mSpy – Best app to view browsing history
Are you those parents who want to give their children some freedom but still worry for them because of the malicious people they might get in touch with? Don't worry, mSpy has proven to be the most worthy internet history tracker. It monitors your child's online activity and reports it to you so you can ensure their well-being.

The main features of mSpy are;
Text Message Tracking
People these days meet a lot of strangers online and sometimes even talk to them. To keep your child safe, mSpy spies on the text messages your child has sent or received on social media apps and sends the report to you.
IMs Monitoring
MSpy comes with the ability to track particular words typed on the keyboard and send them to you. This incredible feature of mSpy reports you every time your child is searching for some inappropriate stuff so that you can stop them from such activities.
Geofencing
MSpy's has the geofencing feature that allows you to set a boundary around the location and monitor the area whether your child has crossed that boundary or not. This way you can make sure they are safe.
Call Recording
Along with tracking text messages, it also records the call of your children. This allows you

to know who your kid is talking to and what their conversation is about.
Pros
Works with both iOS and Android
24/7 professional customer support
Different subscription plans
Cons
Tracing limited to only three devices
4. FamiSafe – The Best Tracking App for You
If you want to keep your children away from immoral activities, Famisafe is the best choice for you. It's a history monitoring app that provides a comprehensive parental control solution. This app is capable of checking internet browsing history and blocking the sites you want your child to use.

Famisafe has got a lot of worthy features, like;
Screen Time Monitoring
Screen time is the concern of most parents. It's difficult to stop children from using smartphones connected to the Internet, so FamiSafe offers the time-use feature, which lets the parents set the limits on the usage of smartphones, gaming software, and the Internet.
App Blocking
While using Famisafe, you can block the apps and sites your child is addicted to. The age-based filter feature of Famisafe automatically blocks the non-appropriate sites so your child cannot get access to them.
Geofencing
Famisafe also has a geofencing feature allowing the parents to create a virtual boundary around the area which they don't want their children to leave and get notified when they leave it.
Multimedia Monitoring
There are enormous apps you kids can get addicted to, and monitoring every social media app can be tough. But, Famisafe's multimedia monitoring feature allows you to monitor various apps simultaneously.
Pros
It can be controlled remotely
Compatible with Android and iOS
Easy to use
Cons
Every feature don't work as expected
5. CurrentWare's BrowseReporter – The Top-notch tracker Software
If you want to keep your network safe and want to know whether your employees are wasting time? Or do you want to know what your child is doing online? Browser reporters will report to you about every event happening on their computers.

The important features of BrowseReporter are;
Real-Time Internet Monitoring
BroweReporter has a feature of real-time internet monitoring, allowing parents to keep track of their child's online activity.
Track Users Surfing on Malicious Websites
It can also track the users who are surfing on malicious websites and notify you. You can keep your children away from such things by limiting their screen time using the app and letting them know that you are aware of it.
Generating comprehensive reports
CurrentWare's BrowerReporter generates comprehensive reports of the usage, including the time of surfing, URL data, the time spent on a particular website.
Accurate timing tracking and usage tracking
You can even track how much time your child has spent surfing online and what has been his/her activity.
Pros
Easy extraction of reports
Easy to use and setup
Pocket-friendly subscription plan
Cons
Wrap up
If you search history trackers to view browsing history, you'll find tons of options, but here we have shortlisted some of the amazing and most useful ones for you so that you don't need to spend plenty of your precious time.

Just go through the features, pros, and cons of these incredible web history trackers and find the best one as per your choice.

Read more
Try iSeeGuard Now to Track Kids' Browsing History!