Best keylogger software for Windows & macOS
Improve employee productivity and prevent any kind of security threat before it happens.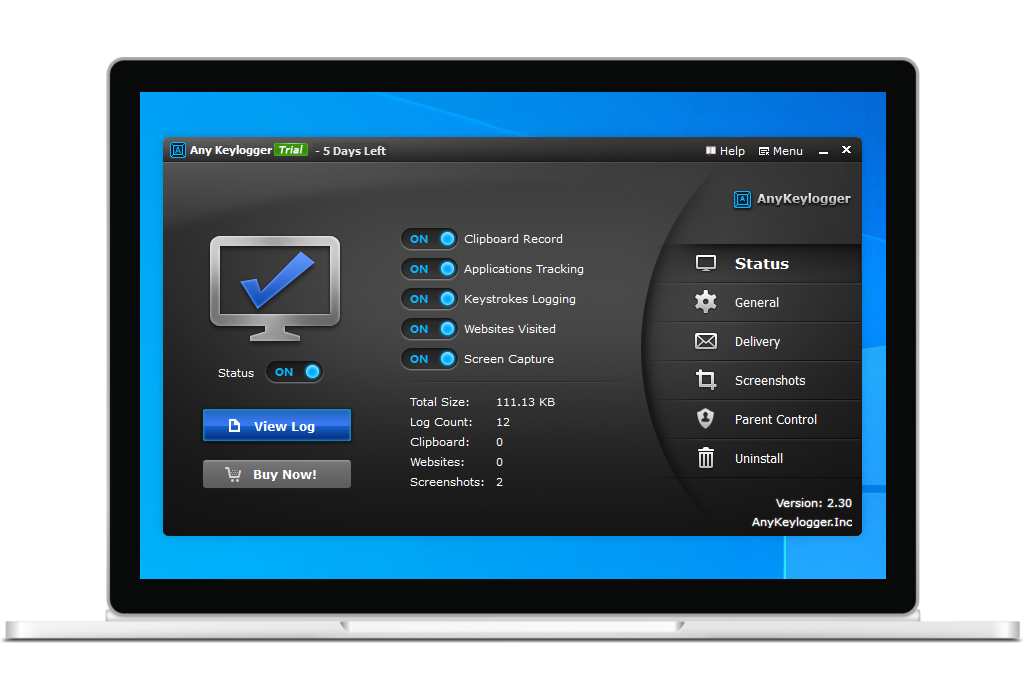 AnyKeylogger for Windows
AnyKeylogger, as one of the hot monitor software in the world, is widely applied to parental control, employee monitoring, and private detective service. It monitors any websites they visited, any programs they run, any characters they typed on the computer.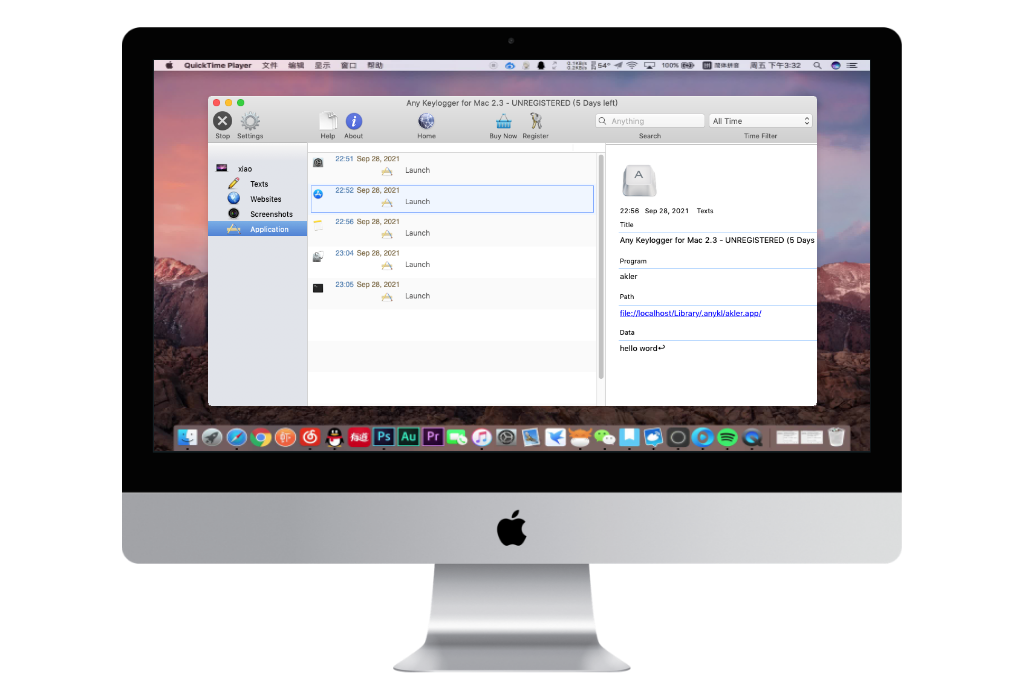 AnyKeylogger for Mac
AnyKeylogger for Mac OS X can log any online activities on Mac including keystrokes, websites, applications, clipboards, and snapshots, which means Passwords typed on Mac and tracks the IP address of the target Mac will also be recorded. you can access all the logs generated by AnyKeylogger for Mac.
AnyKeylogger Personal Monitor for Windows
Monitor all the user activities remotely in real mode with these features
Monitoring through a secure web account.
Keystrokes recording.
Social Media monitoring.
Capture Screenshots.
Screen and Webcam recording without any pause.
More than 25 amazing features to control activity on PCs.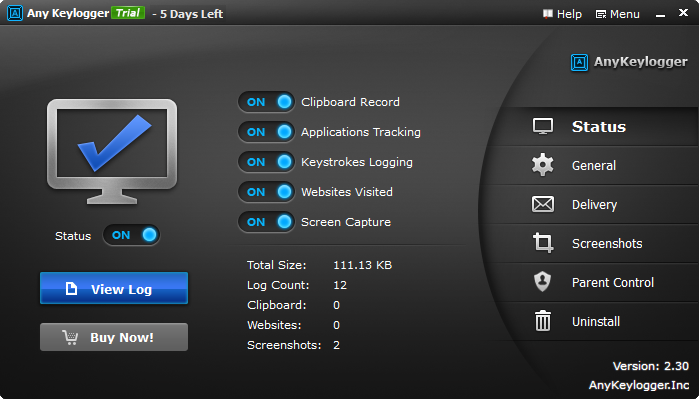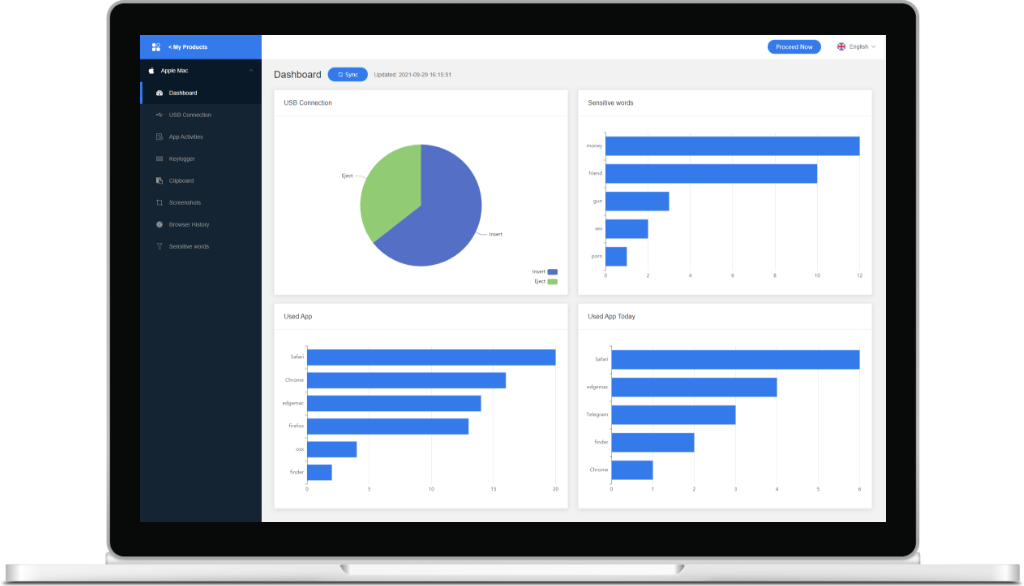 AnyKeylogger for Mac
Monitor user activities on Mac with ultimate keylogging application
Keep an eye on everything via a secured web account.
Keyboard input recording.
View record of social media activity.
Capture Screenshots.
Live screen and webcam footage.
Get unique features to control user activity.
9 Major Advanced Computer Monitoring Features
AnyKeylogger, as one of the world's best computer tracking software in the world, is widely applied to parental control, employee monitoring, and private detective service.
Take Screenshots
Capture Screenshots of the desktop to view running applications and time. Monitor which applications are running in the background to block the access of users to inappropriate content.
Track Vistied Websites
Keep track of visited websites and URLs. Monitor the browsing history even if the user deletes it. Limit your kids to child-friendly websites to refrain them from using inappropriate websites.
Record Keyboard Input
Record everything that is typed from the keyboard. Save the typed data as backup. Track the history of information the users entered on your computer.
Monitor Application Usage
Monitor all the programs and applications running on your PC. Keep track of the online time that your child is spending on different programs and applications.
Track Social Media Activity
Track the social media activity of your kids on Facebook, Twitter, WhatsApp, and Instagram. Keep an eye on employees who use workplace PCs to use social media apps.
Capture Clipboard
Capture everything that the users copied on the clipboard. It can be data, pictures, and files. Secure your data by preventing other users from copying it from the clipboard.
Limit PC Usage Hours
Monitor the time your kid or family member spends on PC. Limit the usage hours by built-in options to focus on work and studies.
Block Websites
Block websites that show inappropriate content or ads. Apply parental control by blocking all the 18+ websites and block social media sites on office computers.
Block Inappropriate Applications
Block all the applications that you don't want your kids or employees to use. Get rid of apps that show extra ads or interfere with useful applications on your PCs.
What Is Keylogger Used For?
Keylogger is a computer program that records everything typed on the computer. This is designed to keep the track record of input from the keyboard. Moreover, it is used in parental controls, IT organizations for backup purposes and monitors employees during office hours.
The Keylogger is a valuable tool for people who want to know what other users are typing from their PC. In addition, it is suitable for those who are afraid of losing their typing data due to computer crashes.
Don't Just Trust Our Words

Amazing product! I am using AnyKeylogger at my office. It helps a lot in keeping the employees productive through monitoring. Moreover, I feel extra secure because the confidential information stays inside the company.
– S. Wade

This software has helped me a lot in catching employees using business PCs for their benefit. In my opinion, this software is the best for employees monitoring,
– John S.

AnyKeylogger is just incredible. I haven't seen anything so perfect to catch the employees abusing the internet policy. I have terminated several employees who were using office resources for their benefits. This software has helped me keep the email, Facebook, and other accounts open for good employees to get valuable information.
– P. Kate
Installed AnyKeylogger on a computer at my office to keep an eye on the receptionist. Initially, it was fun, but then I got busy in my professional life. I have seen improvement in receptionist work after installing this software. This software can help to catch the downfalls of employees in daylight. I am sure I will keep using it forever.
– D. Bella
Best Keylogger Software to Try
A keylogger software comes in handy when you want to monitor every key log entered into a computer. Keylogger software is quite a valuable tool for parents and employers who want to monitor how a computer gets used. More than companies, it's the parents who go for keystroke logger software, and it makes sense why they choose a keylogger app.
With the growing concern of readily available information on the internet, every parent worries when they see their kids being too engrossed in the computer screen. You never know what they may be using the computer for? They could be chatting with unknown people who pretend to be of their age, watching pornographic websites, playing games, which require an internet connection, and more.
Since it won't be possible to guard a child's online activity all the time, finding out log keystrokes is an excellent way to determine whether the child is using the internet for ethical reasons or not. But before you install a keystroke logging app, we recommend letting the child know how dangerous the internet can be. Let them know about the dark side of the internet as well. But if you still worry about their safety, consider these best keylogger apps.
8 Keylogger Apps to Go For
Before we share the top 10 keylogger tools, you may wonder what a keystroke app is? A keylogger tool will collect all the keystrokes used in a device where you download the keystroke tool. When you check the keylogger tool, you will find out what they type on the web browser, see the Facebook password, read chats, and much more. So, a keystroke app will provide you with keystrokes used in the target device. Now, let's find out about the top 10 keylogger apps.

KidLogger

Price: Basic: Free | 3-month: $29.00, 6-month: $49.00, 12-month: $89.00

KidLogger is essentially a parental control app with a keylogger feature. It is considered to be one of the best keylogger apps because the keylogger feature works efficiently. For example, you will see how long the target device has been busy using the internet, what kind of apps they have used, websites they have visited, who they communicate with, and much more. In addition, the keystrokes will tell you the activities done on the target device. Moreover, it can copy text into the clipboard as well.

Spyrix Free Keylogger

Price: Free

The next computer logger app that we have for you is Spyrix Free Keylogger. If you want to try a tool that is free to use, Spyrix Free Keylogger will be enough for you. Once you get the tool and download it on the target device, you will have an account. You can use the account on any computer and web browser to start monitoring the keystrokes of the target device. You will not have to access the target PC to find out what it stores. Even if the target person removes the data they searched, the keystrokes will still be available. Apart from keystrokes, the same tool will let you see user activity, apps activity, capture screenshots, and more.

Actual Keylogger

Price: 1 PC: $69.00 | 3 PC: $79.00 | 5 PC: $89.00

Actual Keylogger is a user-friendly tool and captures the keystroke of the target device without any hassle. Whether you want to track keystrokes or check other activities of the target device, Actual Keylogger will let you do everything. It allows you to check the running apps, websites, take screenshots, and much more. Furthermore, Actual Keylogger gets installed in the target device secretly, which means no one will come to know when you start to monitor the keystrokes of the target device.

Real Free Keylogger

Price: Free

Real Free Keylogger is a powerful keystroke app that lets you discreetly monitor the PC and internet keystrokes of a target computer. It stays invisible, allowing you to monitor your kids' online activities efficiently. The keystroke can show you details such as messages typed on different messaging applications, emails sent, online searches, passwords, and user names. If you want, you can add a password to the tool as well to enhance its security. The log record will be shown to you on the control panel. This is quite a handy tool to ensure that your kids are not doing anything wrong while using the internet. Plus, it is free!

All In One Keylogger

Price: Free trial | 1-2 Licenses: $69.95/license

All In One Keylogger is robust keylogging software that can do much more than just collecting keystrokes. It can give you information about the visited websites, change folders and files, take screenshots, and find out received and sent messages. If you find out websites and applications that your kids shouldn't be seeing or using, you can block them too. If the target device has a webcam, you can use it to record sounds or take photos of the room. This is an excellent way to increase security. The tool operates secretly; hence, you will not have to worry about your kid finding it.

Total Logger

Price: 1 computer: 49.95 | 3 computer: 69.95

Total Logger is comprehensive keylogging software. It lets you track keystrokes of the target device to find out what your kids type when they use the internet. Apart from keystroke monitoring, you can check browser history, monitor downloaded and saved files, check what apps they have used, and learn about the website they have visited. Moreover, you can also use keylogging software to check chats in messengers. And if you want to take screenshots, you will not have to get another tool to do that; this keylogging tool can do that for you.

Perfect Keylogger

Price: Full version: $35.95 | Full version remote edition: $44.95 | Basic edition: $19.95

Perfect Keylogger comes with an intuitive interface, which makes using this tool easy. You will not have to worry about the learning curve because once you upload the tool on the target device, the rest you can easily manage from your computer or any other device by accessing the control panel. Perfect Keylogger operates in a completely invisible mode, and the installation also takes place remotely. Once you pay for the tool, it updates on its own and for free. In addition, this keylogger software will save all the log texts and passwords.

Elite Keylogger for Windows

Price: Free trial | 1 PC: $49.00, 3 PC: $69.00

Elite Keylogger for Windows has a fantastic tool that can record all key types on the target PC. So, no matter where you go leaving behind your kid with the computer for some time, you can check the control panel from any device and find out the truth. From the log, you will see the chat messages, passwords, emails, and whatever the target person types on the computer where you have installed the keylogger tool. The tool is easy to use, and even if you are not a tech-savvy person, you will still find no problem using Elite Keylogger for Windows.

Conclusion

These are the best keylogger apps that you can consider using. With the help of a keylogger app, you can track keystrokes conveniently. While choosing a keylogger tool, think about the cost you can afford or whether you want a tool that's available for free. All the tools that we have listed here are excellent and track keystrokes as they promise.

Read more