WhatsApp Spy App
iSeeGuard Safe and Discrete Android/iOS Monitoring
Monitor WhatsApp
Monitor and find out kid's WhatsApp activity remotely.
Find out how they use their WhatsApp.
With our app, you can read all messages and conversations.
You'll be able to see every shared media file.
Even more information, such as contact details, profile pictures, and numbers will be available.
You can get this anytime, anywhere.
How To Start Tracking Their Messages In Three Easy Steps?
Sign up for free
Create a free account using your email.
Set up iSeeGuard
Follow easy instructions to install ISeeGuard.
Start Monitoring WhatsApp
Start tracking WhatsApp conversations and other activities.
Monitor Someone's WhatApp Activity
With our app, you can monitor someone's conversations via WhatsApp. You'll be able to track someone's messages and calls, whether on a mobile phone, tablet, or desktop version of a popular application. The app allows you to check all conversations and messages without having to be connected to another device. You can do this remotely from your web browser. The application is designed to be hidden and secure.
To get started, you need to download the appropriate version of the device-friendly program. Using the app is simple, but the most important part – you can install it seamlessly on another phone. When you install the app, you are free to use the spy installed on someone else's phone, and that person will never find out. You will gain insight into much useful information, such as contact details and media files.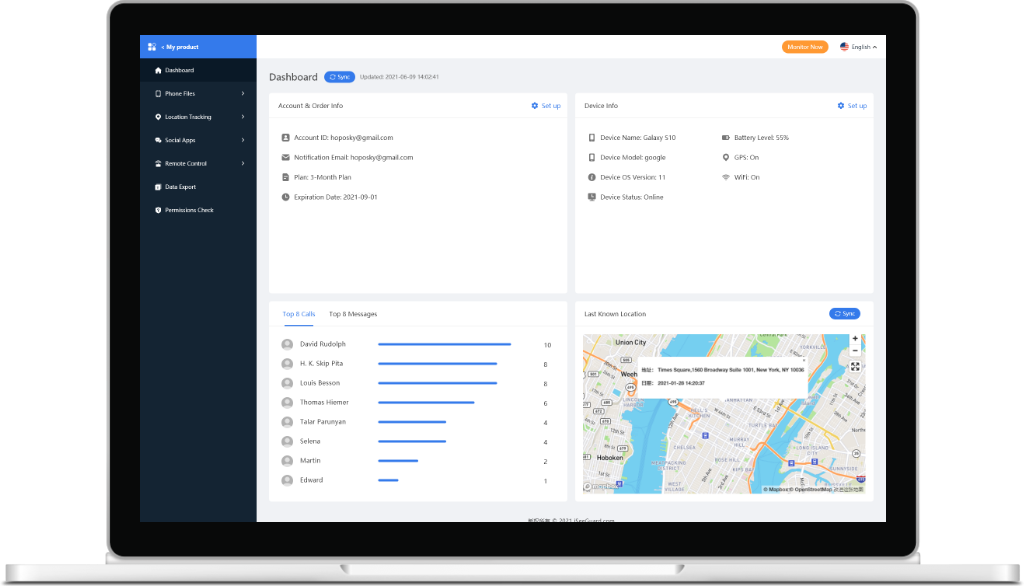 Why Should You Monitor Someone's WhatsApp?
Many people, especially the younger generation, are increasingly hanging out on the Internet and spending most of their free time on social networks. WhatsApp is quite popular among children and adolescents. They communicate, share photos, discuss plans and secrets. A clean approach to correspondence will allow parents to avoid open conflicts and keep up to date with their children.
If you doubt your partner and want to know how he/she is really behaving, you can quietly install our spyware app and know about all their WhatsApp chats and plans. Parents will be much calmer, knowing their children's conversations.
Clearly, no one wants to spy behind them, but sometimes circumstances are stronger than principles. It is in such situations that there is an app like ours, which allows you to see into the world of your child or partner and find out the truth, no matter how bitter it is.
Access WhatsApp Without Root or Jailbreak
iSeeGuard app is carefully made so you can access someone's WhatsApp without having to root or jailbreak their device. You won't have to make changes to anyone's device and disrupt the entire operating system. The design of the program is simple and precisely done.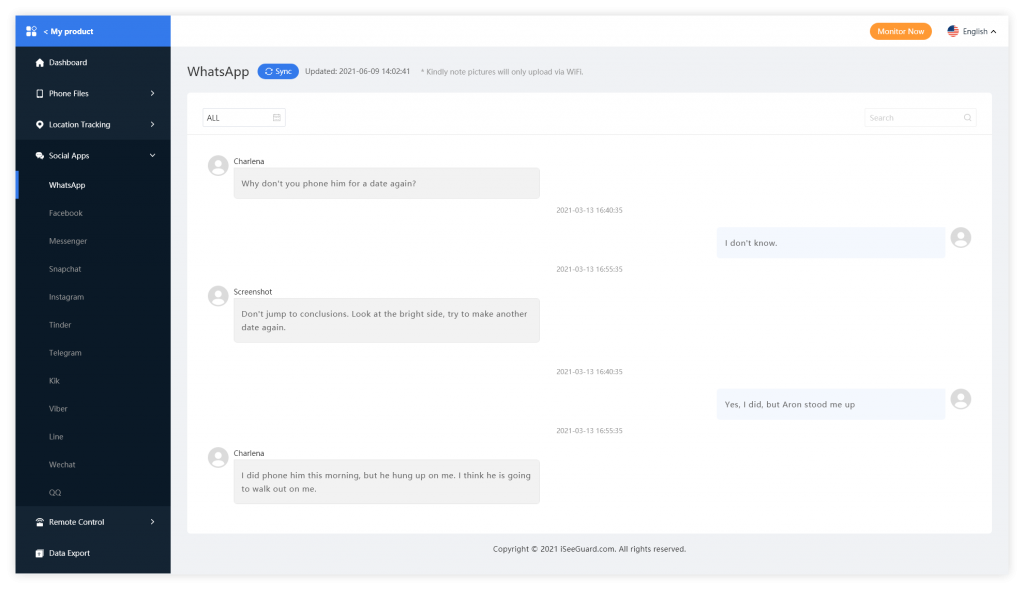 Privacy and Safety Are Guaranteed
iSeeGuard app is easy to install and use on both Android and iOS. The installation takes a few minutes and the program cannot be seen on the device. In addition to not leaving a trace of installation, the application doesn't take up much space and does not interfere with its operation.

My 13-year-old daughter had been skipping school and refused to talk to me. So, I put iSeeGaurd on her phone. One look at the WhatsApp chats and I realized she was being threatened in school. Took the chats to the principal and got it all sorted out.
– Melanie, US
I do not think my teen son realizes that sharing personal photos with everyone can be dangerous. With iSeeGuard, I can access his WhatsApp photos and chats to know what he is up to and what he needs to filter out.
– Kylie, US