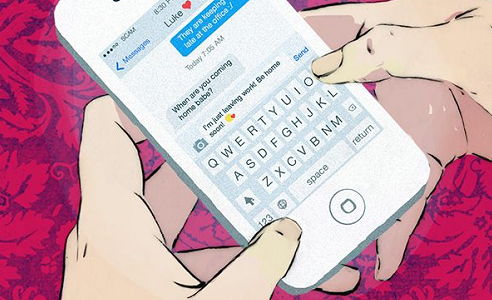 Thanks to the internet for helping you meet new friends, flatmates, and even your spouse. However, the same internet can be the reason why your relationship is on the verge. Your lover or spouse might have been lured by the buttery talks of someone they met online, and now they dream of happy forever life with them.
Now, this might be your misinterpretation, but on the other hand, chances are your doubts might be correct. The truth must prevail, thanks to the constantly evolving technology, it is much easier to catch the cheaters. Even if your partner uses iPhone, there are various ways you can find out whether they are cheating or not.
In this article, we will reveal a few tricks that will help you catch a cheater on iPhone. You will find useful iPhone features and apps that enable you to pick up cues and dig up facts on your cheating partner.
What to Look For on a Cheater's iPhone?
Your partner's iPhone is a treasure trove as it holds various data about their life, habits, and potential misdeeds. However, if you are not aware of where to look on your iPhone for cheating, check for the following things.
Call History
If you want to find clues on the cheater's iPhone, look for call history. Look for contact naming, as cheaters have the habit of saving the lover's name as a deceptive name like workmate Julia from work.
While this method may not work 100%, the other thing you need to check is the call time and frequency. It is vital to note the time and frequency of sending or receiving calls from the suspicious number. However, your search could be of no use as cheaters tend to delete call logs as soon as they get off the phone.
IM Apps
If you are not able to find call history on your partner's iPhone, then messaging apps are the next thing to look at. Most cheaters use messaging apps to communicate as they find it convenient than calling their illicit lovers. Look for apps like Facebook Messenger, WhatsApp, Viber, etc., and check for doubtful messages your partner exchanged with mysterious contact. However, if they have password-protected the messaging apps, then it can be difficult to seek the information.
Dating Apps
If you do not find anything in the call history or messaging apps, then look for dating apps. Partners cheating tend to find lovers on dating apps. So, if you get hold of your partner's iPhone, check for dating apps to see if they have it on their phone. Having one can point towards cheating, and if there is more than one, then it can indicate a new cheating level.
Using the above strategies, you can obtain the information to verify if your partner is cheating. However, the possibility of getting these facts depends on your access to your partner's iPhone. If you do not know the password, then the phone is practically worthless when locked.
No worries, several spy apps cater to your need. With the apps by your side, you can assume what your partner is up to without being actually present.
Catch a Cheating Spouse for Free with Apple ID
Using Apple ID is one of the best ways with which you can spy on iOS devices. With it, you can gain access to an iPhone's backup registry as it contains the recent IM Apps conversations, deleted emails, shared photos, browsing history, and GPS locations.
That is pretty much all you might need to know to make sure that your partner is cheating. Here are the steps to follow.
Step 1 – First get the Apple ID information of the iPhone of your spouse and go to iCloud.com or the Settings on your iOS device.
Step 2 – Log in to iCloud using the Apple ID and password. Some devices ask you to merge, accept it, and then proceed to select and view what you wish to monitor.
Apple ID allows you to sync emails, messages, photos, Contacts, and other data. If you want to spy on the messages, then go to settings and messages, then enable iMessage. Once the iMessage is enabled, reenter the password and Apple ID of the targeted device.
Once done, sign in and wait for the device to log into their account. You are now ready to spy and monitor the activity as it happens. It shows you iMessage conversations exchanged, locations, email activity, and shared photos. With the help of Apple ID, you can catch a cheating spouse easily.
Catch a Cheater Texting on iPhone with Tracking App
A cheating partner might cover their trails completely without you having an idea. To clear up your doubt, you can use spy apps to seek out information about the activities, irrespective of how stealthy your partner operates.
mSpy
mSpy enables you to monitor various kinds of data on the target iPhone, including the incoming and outgoing calls, call history, text, instant messages, GPS location, and much more. Moreover, it allows you to view all the deleted messages as well. You can also access and check the photo and video gallery and keep an eye on their Facebook, Snapchat, Twitter, Instagram, and more. With the app, you are ready to catch a cheater texting and confront them with proof.
FlexiSpy
FlexiSpy is a tracking app for PC, iPhone, iPad, and Android. It allows you to monitor the iPhone extensively and get information like calls, messages, and location without your partner knowing. You can remotely install the spy app on your partner's iPhone and spy remotely on online and offline activities. With the app, you can discretely listen to the phone conversations, record the calls, track text and social media, record passwords, usernames, or codes typed on the target device, and much more. With FlexiSpy installed, you can catch a cheating husband easily. FlexiSpy comes with fair pricing and offers a free trial to help you accomplish your task.
Conclusion
There are various ways through which you can catch a cheating partner on the iPhone as it helps you get to the bottom of what is happening. If you catch your spouse cheating, you can sit and have a talk with them or decide to end the relationship, whatever feels right to you. Knowing that your partner has been cheating on you is hard to digest, but it is better to find out about it sooner. If your partner refuses to their mistakes, you can show them the proof gathered through the spy apps.