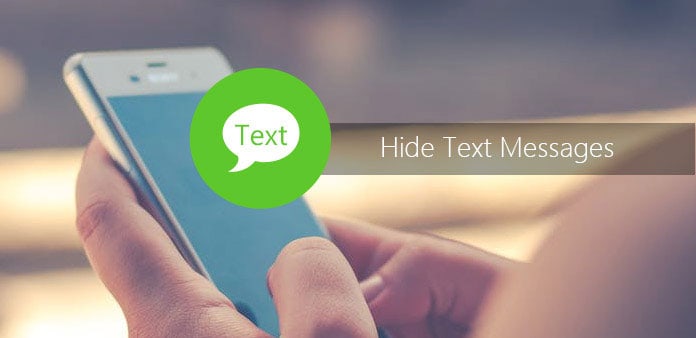 Have you ever felt that distraction of your SMS popping up on your iPhone's lock screen when you are in the middle of something?
Well, I guess this would have happened with everyone. As per security and privacy are concerned, no one can compromise with it. Furthermore, you would never want to reveal any of your communication with the third man until and unless you know that person. Apart from this, there are a lot of texts and notifications that you get like bank OTPs, private text from your business partner, etc. You would never want to reveal that at any cost this shows why the privacy of your text messages matters a lot.
Let's talk about the privacy of text messages on iPhone. Do you know how to hide the messages on your iPhone?
Well, Don't worry! Some of you might not know, and for that reason, we have covered all those points in this guide. These points can definitely help you to hide messages and notifications on your iPhone.
Set a limit in your in-built message app
You can consider this as a great way to hide text messages and notifications on iPhone from others. However, you never know who can read your texts by opening the application in your absence. By setting a limit in your message app can help.
To do this, follow the below steps:
Go to the settings option on your iPhone.
From turn on the screen time.
Click "continue", and Then choose the option "this is my iPhone".
Set a password for your message application.
Go to app limit and add a limit. Choose messages by going into social media networking.
Choose next.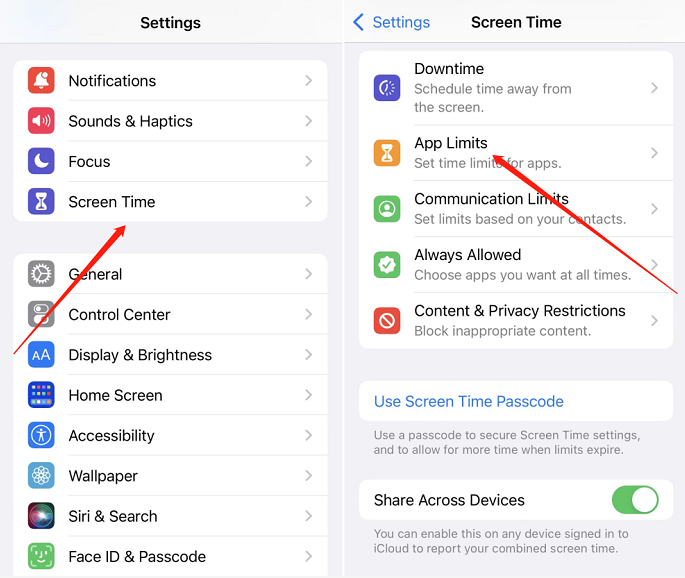 It is a powerful technique to keep your messages hidden from the ones prying on your screen.
Now set the preferences like time and days when limiting the application access. Turn on the "Block at the End of limit" option. Now tap on "Add".
Switch to the messaging app again. Wait here for a few minutes, say 5 minutes. It will show you that you have reached your limit.
Now click on the "ask for more time" option to see another screen showing the time limit. Wait for another minute to receive the same time limit alert. Now you need to enter the set Passcode to access the messages.
Turn off the preview to hide message notification iPhone
It is the easiest method because you don't have to install any application or do any extra work. You can turn off the message preview when your iPhone is locked. With this, you don't have to worry about the messages popping up on your screen. Moreover, no one can open your iPhone without your permission, so clearly no chances of your privacy getting leaked or so. You can follow the below steps for turning off the preview.
Go to the settings and tap on the notification options.
Go to messages > show previews.
In show Previews, change it to never.
Change the vibration and sound settings to none.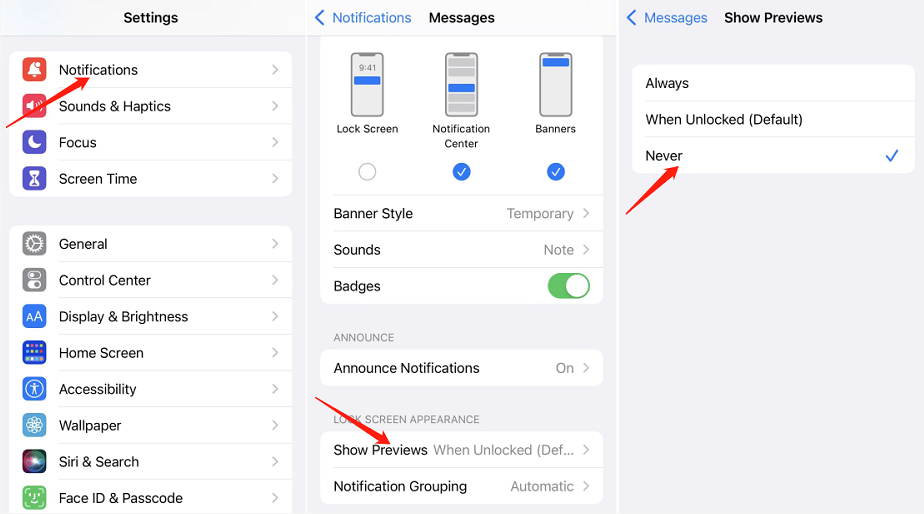 You are almost done here, but there are a few more steps. Turn off the banner, notification, and lock screen and turn off the allow notification toggle. With this, you are successful at turning off the previews. With this approach, you can hide text messages on your iPhone's lock screen.
Third-party applications to hide texts and notifications
In case you want to ensure that your privacy is not hampered, then install third-party applications. Third-party applications act as a vault behind which your iPhone's main application like your messaging app will remain locked. It means only you will be able to open the application to check the messages. Many applications can hide your text messages like Cover me, Private Message Box, Block SMS, and calls, etc. Below we have shared how these applications can help you in hiding the text and notifications from others
As its name says, it helps you in covering up the things like your texts and notifications. Well, it can cover up your private texts so that no third party sees that. With the military-grade encryption technique, it can protect your messages and data by keeping them safe in its privacy vault. The application is free for now, and you can download it from the play store.
Well, it is a good and quite famous application for hiding your private texts, incoming and outgoing calls. Using this application will keep your conversation safe. With a private Message box application, you can make messages private on your iPhone.
Via this application, you will not only get your messages and alerts hidden but unimportant calls will get blocked too. There is a "mode on the other hand" option available. By disabling it, your essential calls that got blocked will be hidden from others.
Use in-built Notes application to hide iPhone texts
In iPhone, there is an in-built application known as Notes App. You can simply lock your text messages here. In addition, it is another way of hiding in the Note app, you can take the screenshot and keep it in the Note app. However, this can be a time-consuming task, but you can use it in the case of an emergency to hide confidential texts.
Conclusion
There is always something private on your phone. Due to this reason, you must always ensure that no one except you can access your notifications and texts. With the help of the above-mentioned ways, you can hide iPhone alerts for texts.